In the new age of Augmented & Connected work, businesses are urged to optimize their processes to become more competitive. Only by adopting a comprehensive strategy towards greater connectivity, mobility, and digitization can organizations implement operational excellence and continuous improvement as strategic goals.
Unlocking Operational Excellence by Optimizing Operations
Process transformation in the digital age
Digital transformation and Industry 4.0 are all about continuous improvement. At the center of these two movements, we find the mass transformation of processes, the creation of new business models, and a profound cultural shift based on new emerging technologies.
The end goal of such transformations is to achieve operational excellence, which represents a new age of operational work with improved task execution, increased productivity, enhanced efficiency, and reinforced safety. These outcomes result from a new mindset supported by digital transformation and digital solutions.
Transforming operations to deliver Operational Excellence
While these changes provide short and long-term results, they do not end with process transformation, better operational results, or the emergence of new work cultures.
In fact, the ultimate goal of establishing an operational excellence strategy is to deliver continuous improvement. This means that an organization with an operational excellence mindset is always working on improving operations and the overall strategy.
In practical terms, this translates to an improvement in frontline workers' performance, faster operations, less downtime, more productivity, and most importantly, a continuous cycle that allows supervisors and directors to constantly review, control, and improve operations.
For instance, a procedure, such as inspections, which seek to identify potential issues before they take place, can be transformed to maximize its impact, become more efficient, or use fewer resources. Overall this could result in optimizing inspections to take less time, include visual evidence, and cover new steps or indicators.
To deliver such changes, organizations can perform a wide range of operational reassessments, system optimizations, and transformations in working culture. According to Delloite, operational excellence can cover the following dimensions: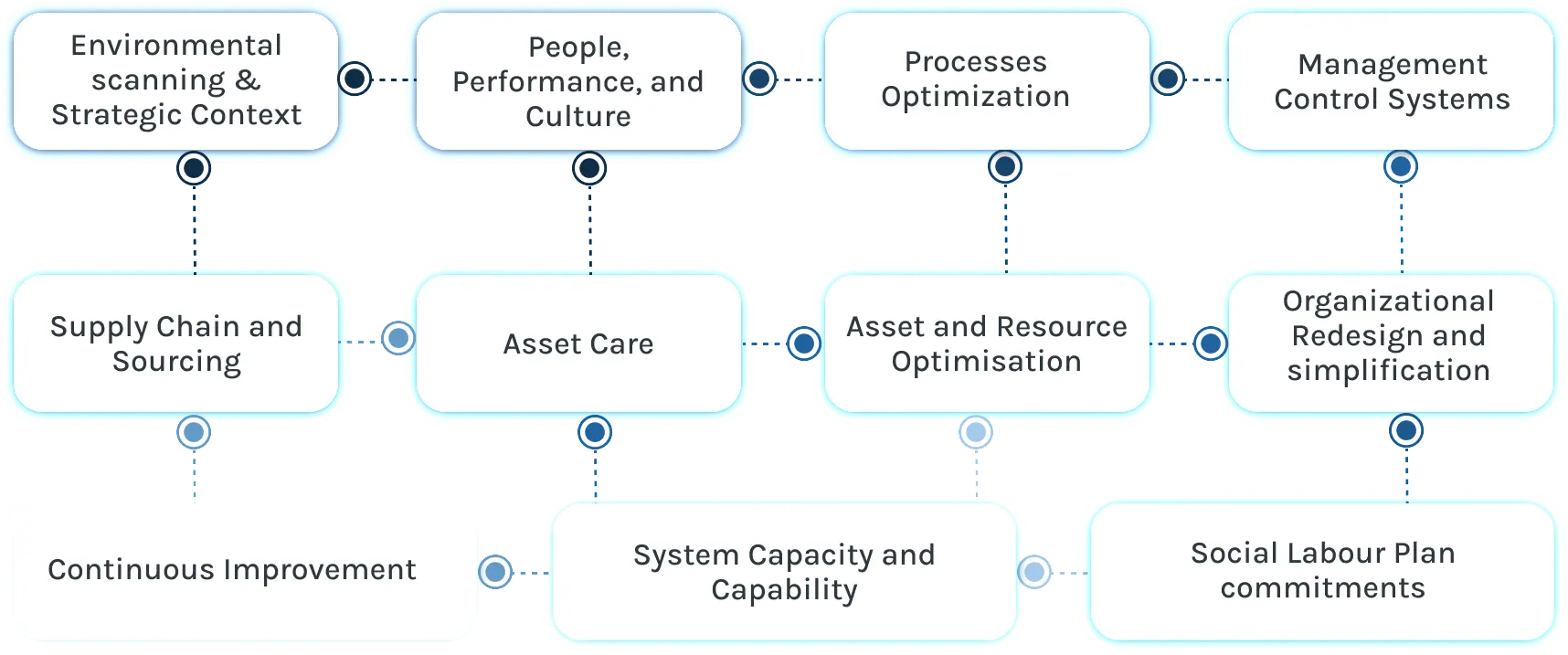 Glartek's approach to Continuous Improvement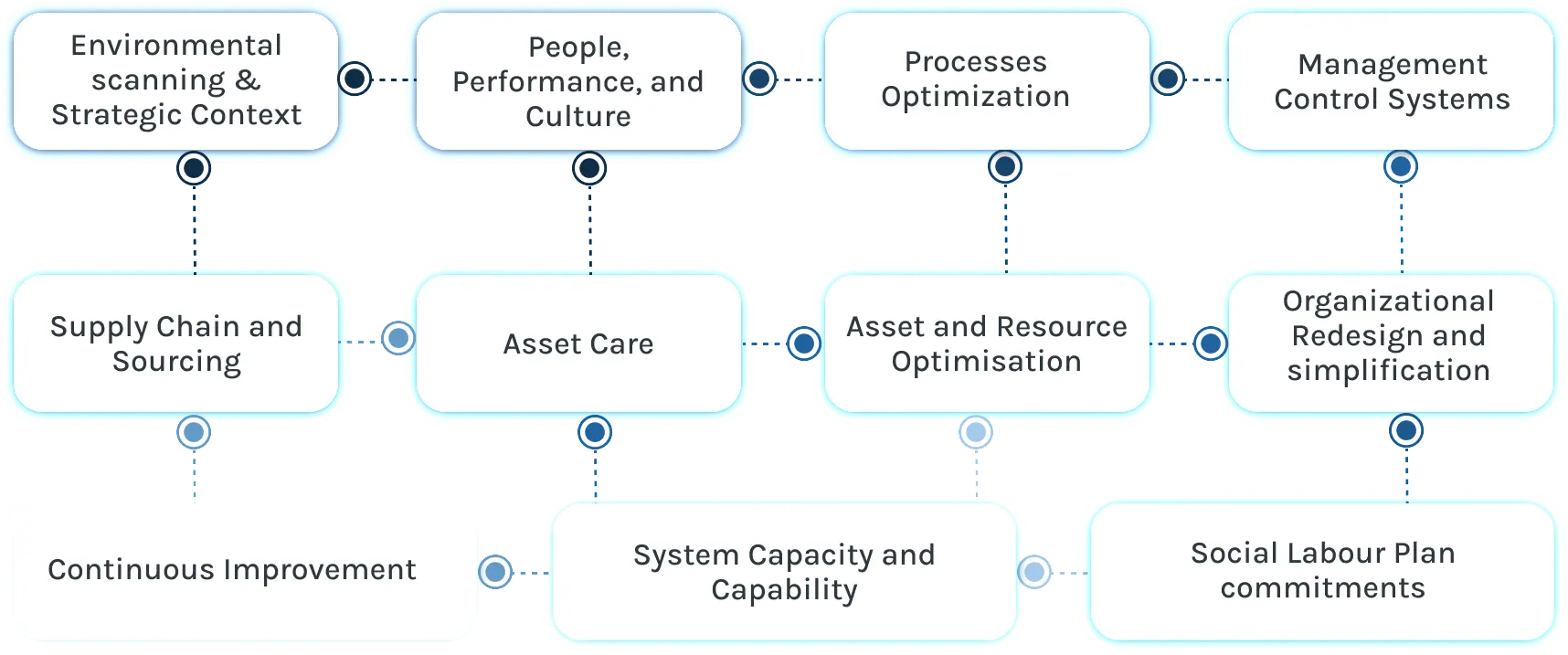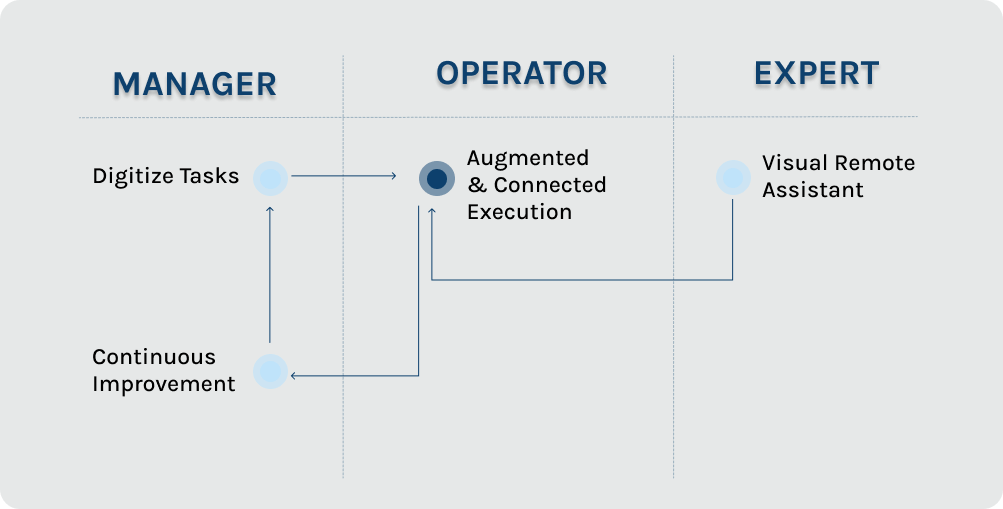 Glartek's Augmented & Connect Worker (ACW) solution helps businesses achieve operational excellence and continuous improvement. As illustrated above, change starts at the managerial level, but involves both operators and experts.
Digitized tasks and Augmented & Connected execution
The ACW platform enables the digitization and digitalization of tasks and their optimization. This includes not only work instructions, but also various procedures, such as preventive maintenance, changeover processes, breakdown notes, and incident reporting.
As a result, it is possible to incorporate augmented reality in task execution, allowing operators to access contextualized information. In addition, workers will also be able to easily locate specific sites within shop floors and access 3D guidance during task execution. Simultaneously, tasks can be tracked in real-time connecting all operations in a single platform.
Visual Remote Assistance
To overcome any unexpected issues during task execution, resolve unexpected breakdowns, or perform guided installations, remote specialists can be contacted using Glartek's visual remote assistance software. This digital solution allows for immersive and detailed video sessions featuring 3D annotations, AR markers, and session reports. Organizations can reduce travel costs and the duration of downtimes, create a knowledge base for operators, and reinforce workers' autonomy.
Continuous Improvement
By digitizing and augmenting tasks and visual remote assistance, it is possible to create an improvement cycle within a single platform that centralizes all industrial procedures and data.
Such data inform managers' decisions and provide key insight into operations and the performance of teams and individual workers. This data not only informs the creation of new tasks and managers' decision-making but also achieves a new stage of continuous improvement. This will result in regular increases in productivity and production results.
In other words, achieving operational excellence makes it possible to continuously redefine goals, adjust resources, and upgrade operations. Simultaneously, by defining a continuous improvement strategy it is possible to maintain a robust and mature operational excellence mindset. All in all, both strategies go hand in hand and are the result of a successful implementation of Glartek's solutions.
LEARN MORE
If you'd like to learn more about Glartek's solutions, you can always visit our website or schedule a free demonstration. For more information on augmented reality and Industry 4.0, you can also explore our blog.