Turn challenges into opportunities by seeking the next level of performance.
It is important for all manufacturing organisations to constantly seek the next level of performance. Continuous improvement is a key component of every industrial manufacturing organisation. It is one of the main differentiation factors and competitive advantages to have in today's industry.
To make continuous improvement a reality it is necessary to improve processes and drive operational excellence. In order to do that it is important to monitor all the organisation's processes. To properly analyse them it is not enough to look at the overall scope. Instead, it is necessary to evaluate each specific element of the process and evaluate it in detail.
Many industrial organisations use an effective procedure called 4M Analysis to analyse the performance of each process element or to find out the source of a specific problem and correct it ou improve it.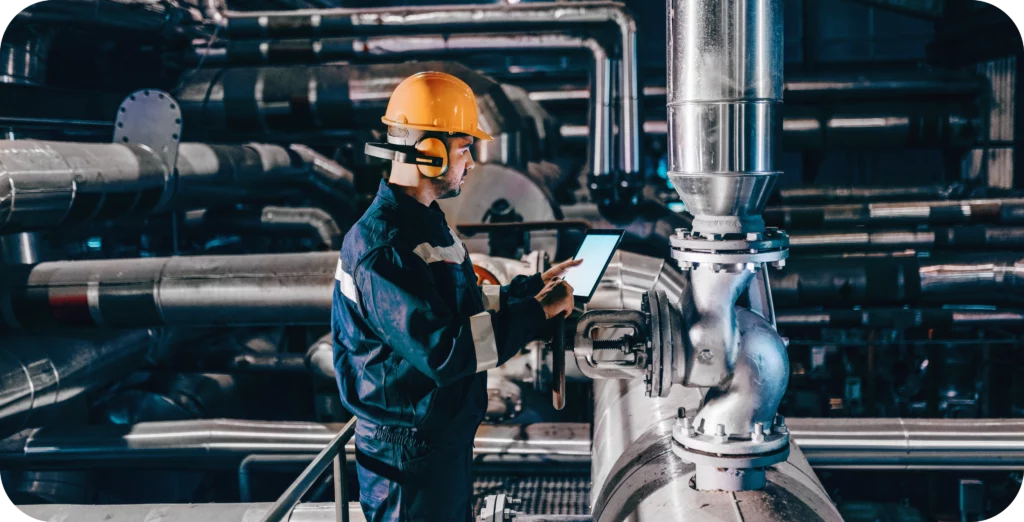 4M Analysis in manufacturing industry
This method is a useful tool for analysing and above all identifying the root causes of possible problems in manufacturing processes. This procedure can help identify sources of variation, root causes of problems and find improvement opportunities.
By conducting a 4M Analysis it is possible to analyse all four main factors that contribute to the success or failure of a specific industrial process.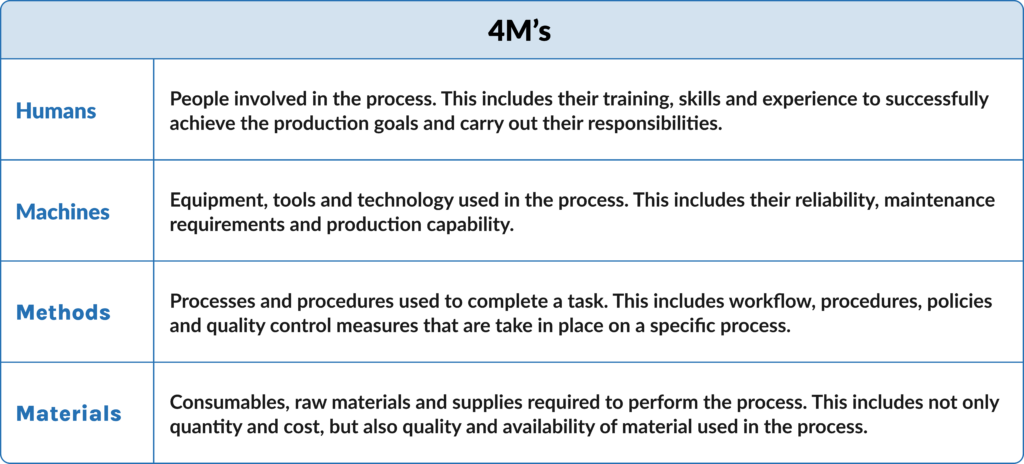 4M Analysis Benefits
Examining all 4M's will help to understand a particular problem and obtain valuable insights about in which areas improvements can be made. This will allow to increase efficiency, optimize processes, enhance production quality, or even reduce waste. Some general benefits of using a 4M analysis in the manufacturing industry are: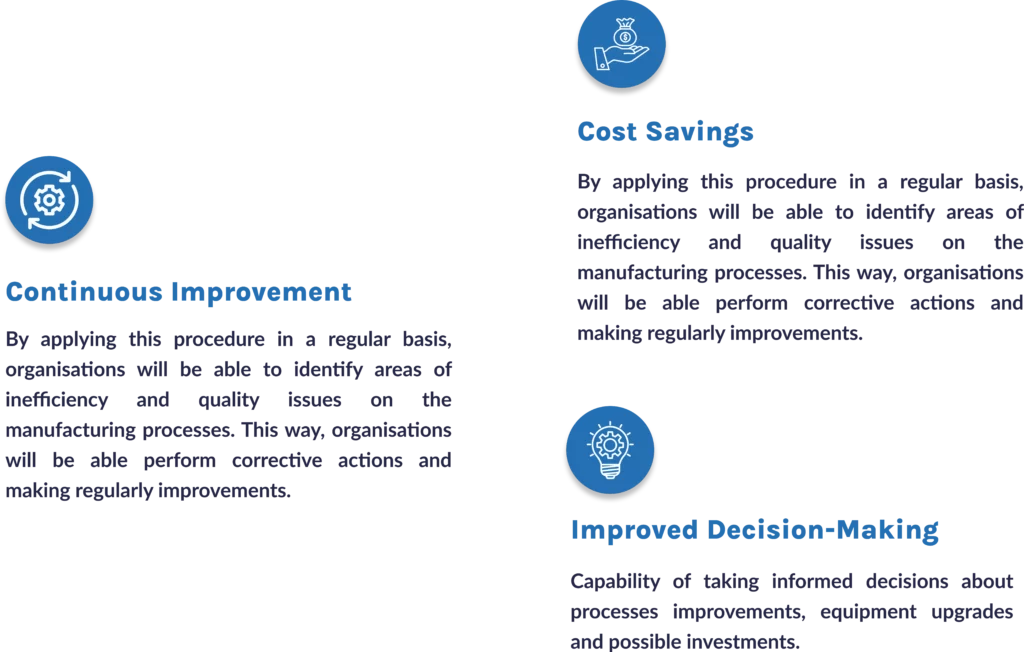 Main challenges
Although the 4M procedure is a very useful and important tool, sometimes when applying it in an industrial environment appear several challenges to its implementation and execution. Here are some of them:
Complexity and time-consuming procedure

Identifying the impact of each element on the total process can be challenging since the processes can be long and complex. Especially when the procedure is performed on paper forms because it is necessary to collect and enter all data by hand and without any guidance.
Data collection and analysis errors

Due to the process complexity and being done by hand, errors like incorrect data entry can happen during data collection and analysis. These accidental errors can lead to misinformation, resulting in potential incorrect decision-making.
Changing conditions

Manufacturing processes can be very dynamic (changes in demand, supply chain, equipment failures) making it difficult to keep a 4M Analysis procedure always updated. When conducted on paper the difficulty increases, being necessary to redo, reprint, and redistribute the new form every time a change occurs.
Limited collaboration

Data collection, analysis, and decision making are usually done by different people or teams. This can lead to loss of information and generate delays during the process. Added to these, the rapid change in industry production factors can lead to greater difficulty in identifying and solving problems in real time.
How to improve your 4M Analysis in a constantly changing industry
To make continuous improvement a reality, it's necessary to improve all your procedures. A solution that allows overcoming the challenges we have seen above is digitalising your 4M Analysis procedure with the new Augmented & Connected Worker solution. With this platform digitalize former paper procedures and make them available to all workers devices it's easy. Your 4M Analysis will be paperless, performed with less error and much more guidance at the same time that will improve collaboration between workers, teams, and departments.
Paperless Procedure
To perform a 4M Analysis you only need to assign the procedure to a worker or team and they just need to pick up their mobile device and start following all instructions and filling the requested informations.
It's even possible to score your 4M procedure in order to quickly analyse the procedure finding and performance. In addition, you are going to be able to add photos and videos, something that is not possible with paper reports.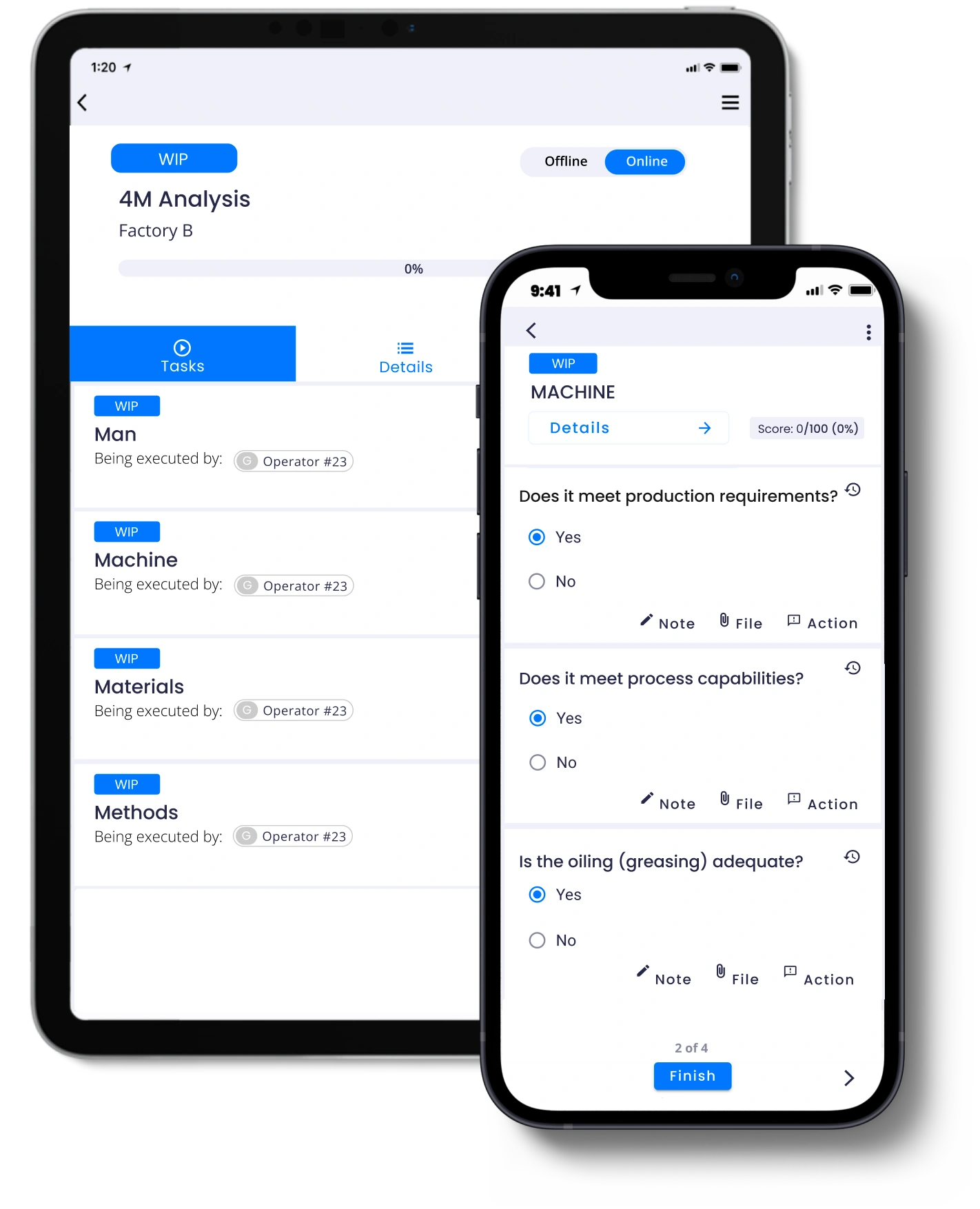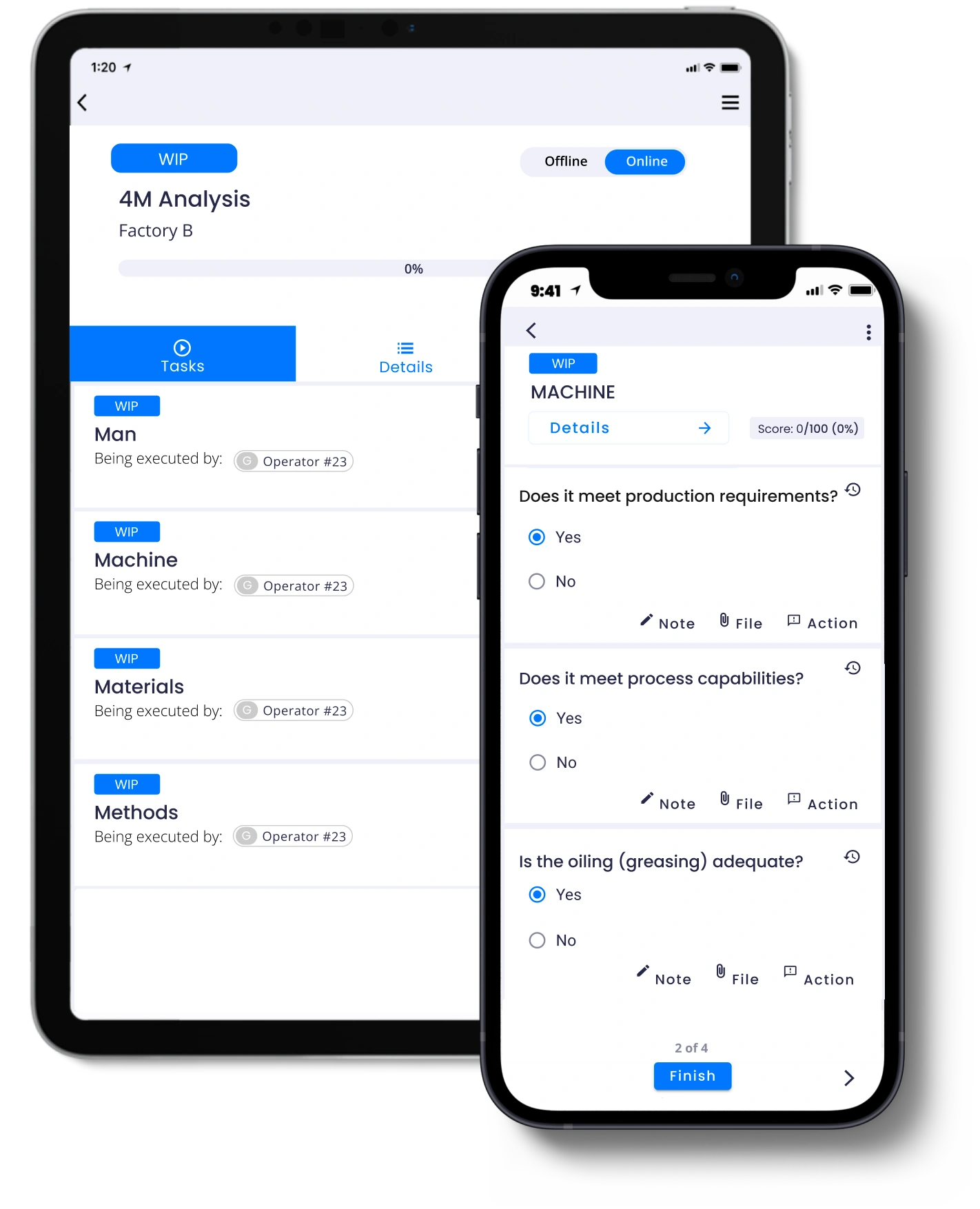 Visual Remote Assistance and AR Guidance
Communication and collaboration are an important part of the 4M Analysis procedure. Providing remote tools to front-line workers will allow them to communicate and collaborate with other teams and departments.
Will also allow workers to request remote support from experts during process execution decreasing response time and expert trips.
In addition, all 4M Analysis steps can be contextualised through markers all over the shop-floor, providing guidance to operators.
Real Time Information and Data Analytics
In a 4M Analysis, the information collected is extremely valuable. This information will be the basis for the implementation of improvement measures or to find out the cause of a certain problem.
You will be able to easily gather and access all valuable data in real time. All information is stored and accessible and it can be used to take informed decisions. All information will be available on custom dashboards and reports to easily analyse.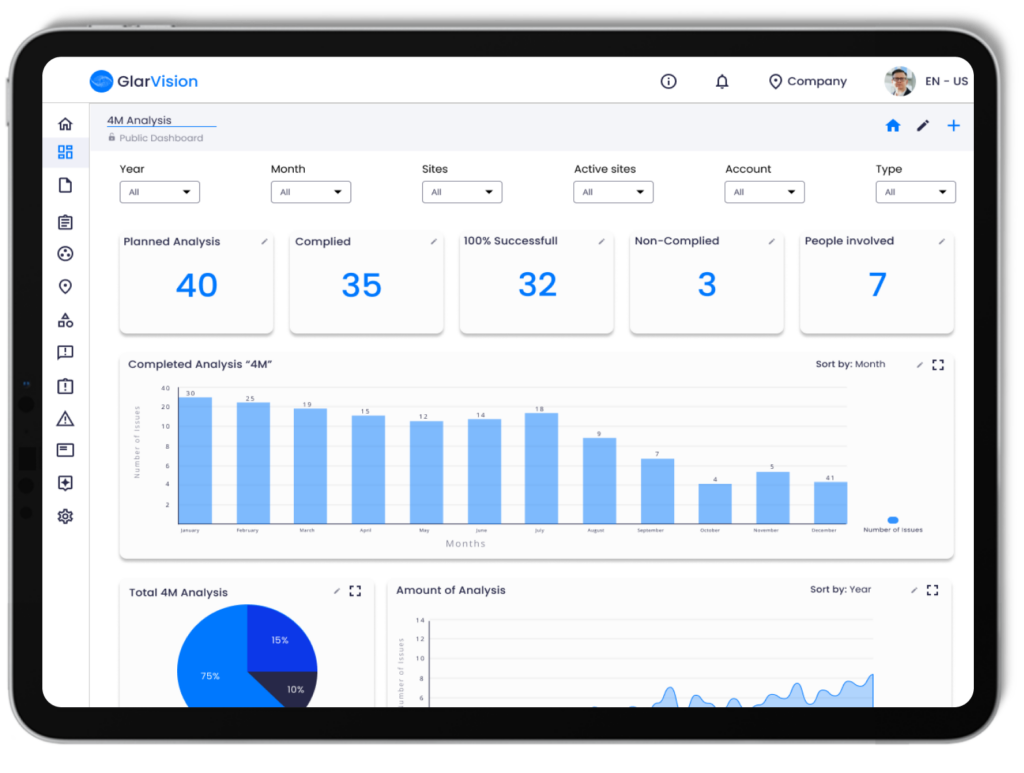 How to migrate a 4M Analysis template to the platform?
Digitalise a 4M Analysis procedure checklist its simple and an be done using the Augmented & Connected Worker platform. In the platform back office, you will be able to create a digital procedure template.
Migrating a 4M procedure checklist is easy due to a user-friendly form creator. It is possible to replicate former paper instructions. It's also possible to request the most varied types of questions and inputs with different answer formats. You can also ask for proof by requesting that photographic evidence be uploaded.
You can even attribute scores to your procedure in order to quickly make an assessment of the result of the procedure and find out how each M performed in the analysis.
Create an Issue template (eg: 4M Analysis…)

Create your tasks (eg: Man, Machines, Materials, Methods)

Create your instructions and questions (eg: Is the layout adequate?)

Create a issue using the previously created template

Assign the issue to a team or to specific frontline workers
In conclusion
Overall, 4M Analysis is a valuable tool for identifying problems causes, and opportunities to improve manufacturing processes. However implementing 4M Analysis can be challenging, particularly when using paper forms in complex manufacturing processes.
Digitalising your 4M Analysis with our platform will enable faster and more precise information gathering resulting in greater analysis accuracy. At the same time, provides extra guidance to workers and improve communication and cross-function collaboration making it possible to take real time improvements and decisions.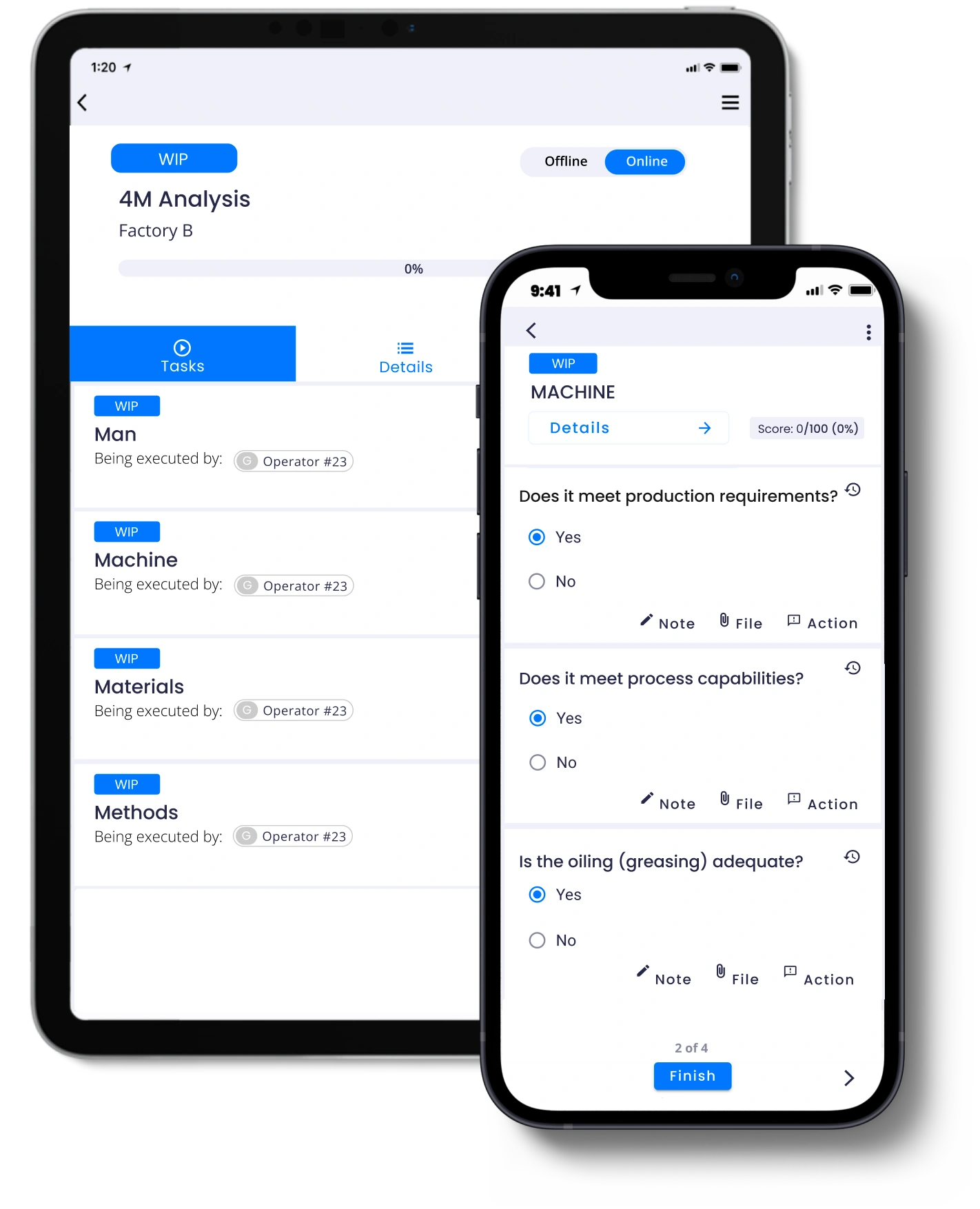 If you want to know more about 4M Analysis and other procedures that can be migrated from paper to digital visit our website procedures page and discover The Augmented & Connected Worker benefits. In addition you an also request a 4M Analysis procedure template.
Learn More
Interested in learning more about digital solutions and how they are changing shop floors? Explore our use cases or reach out to our team to schedule a free demonstration to understand the full potential of Glartek's Augmented & Connected Platform.