The covid-19 pandemic has been in our personal and professional lives for almost a year now. A long and unexpected year in which everyone's role was to understand how to adapt to a whole new life, to new business models, and how to be able to survive in this uncertainty. But how have Industry 4.0 technolgoes have influenced businesses during Covid-19?
The Industry 4.0 during Covid-19 pandemic: The Industry has been keeping behind other sectors like retail, IT or even communications, due to its dimensions in several levels (equipment, teams, …), and due to the high turnover that exists in Industry.
To provide a specific example of the impact of Covid-19 in the Industry, we can summarize a recent research done by Accenture. In this research, the consulting leader has concluded that the Automotive sector will be impacted by a big job loss, and an expected decrease in production by 16%, which will highly affect the worldwide GDP.
However, Covid-19 has been serving as a booster for the Industry 4.0 and its emerging technologies. Industry 4.0 technologies have been helping companies to compel with the three buzz words that summarize this pandemic: Isolation, Social Distancing, and Remote Work.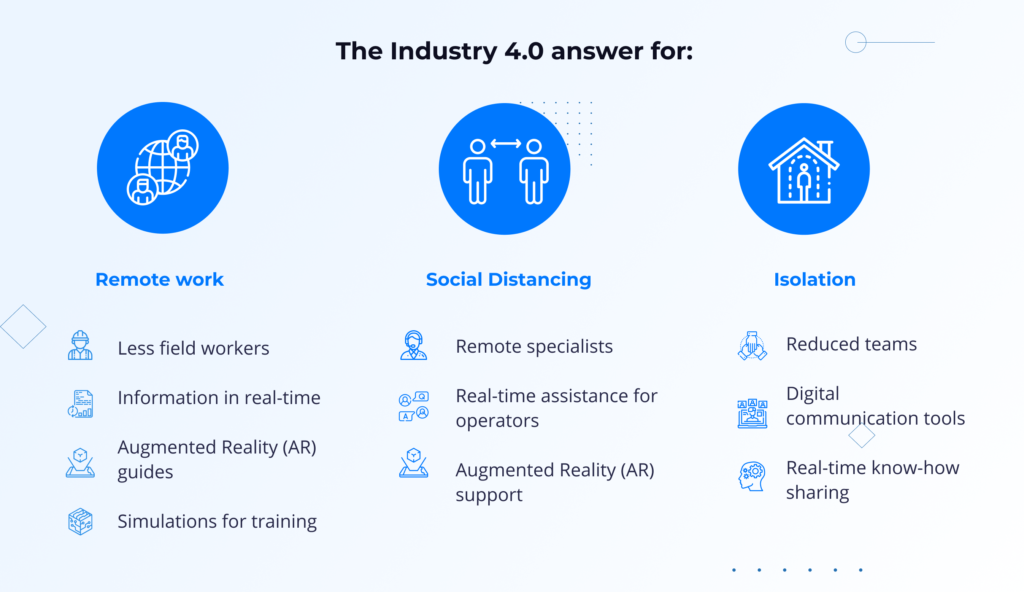 Social Distancing: New technologies allow to have more informed and multitasking workers, which translates into a minor amount of field workers. Digital Workflows, system integrations, and Augmented Reality (AR), workers can execute any task, without the need to have more experience or training.
Remote work: The new digital era allows to centralize specialist teams to provide their know-how to any field worker, at any time. The guidance is provided with Digital tools, often supported with Augmented Reality (AR), to ensure an efficient and quick problem-solving.
Isolation: Isolation is one of the Covid-19 key topics, and that is not always easy to speak off. However, Industry 4.0 technologies have proven to avoid such deep isolation. The Digital world remotely connects teams, and simplifies communication among everyone.
"When we look at the usage of AI and cloud, I think it is especially going to accelerate also not just us, but how our clients are going to go on their digital transformations. And I believe this crisis is only going to accelerate that as we go over the next few months." Michael Dell, CEO at Dell
But what is the influence of Industry 4.0 technologies in regards to this new reality? Are they only influencing businesses on the short-therm? Let's answers these questions in the following section.
1. REMOTE WORK
At this precise moment, there are hundreds of millions of people at home, in a lockdown provoked by the Covid-19. This is a fact that highly influenced business models. Companies have completely reshaped their cultural, organizational, and operational way of working, to comply with the new reality of a more Digital World.
More people are working remotely than in the field. However, the number of field workers must be sufficient to ensure all operations. Customers reach out to companies through new digital means, which makes it necessary to have a team prepared for this new communication method.
I am sure that the word "Remote work" seems stressful for a lot of leaders. Mainly in the Industry. But it only takes the right tools, and the right team preparation to guarantee that this new reality becomes a new and more profitable business model for the company itself.
Industry 4.0 tools that help this new transformation, and turn it easy:
Digitized processes
An integrated system with centralized data for all operational and management levels
Digital workflows supported by different inputs
Workflows Augmented Reality (AR) visual guidance
Remote and centralized specialists
Visual Remote assistance tools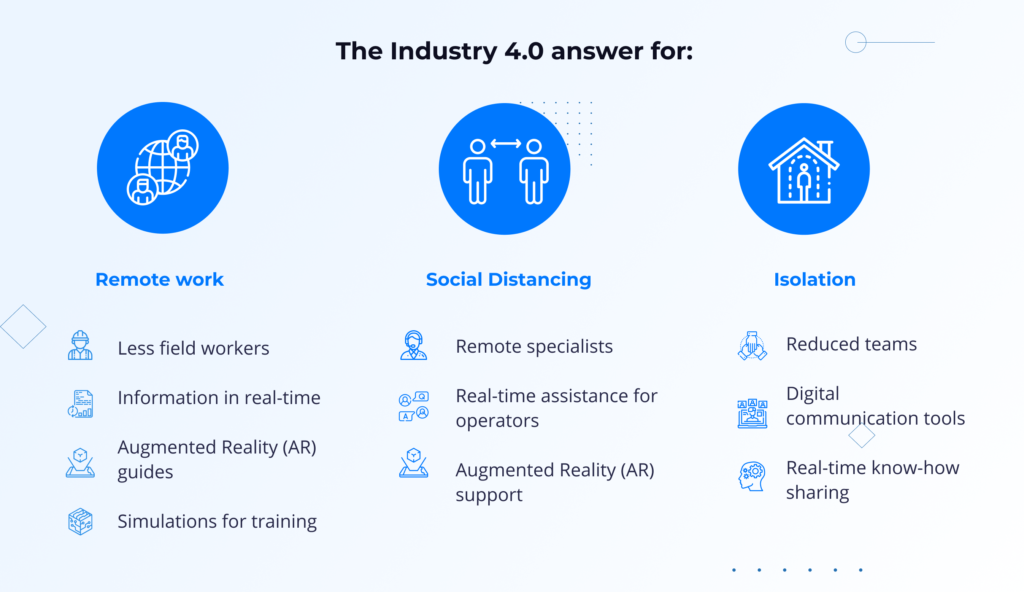 2. CONNECTED & AUGMENTED WORKERS
One of the main differences between the Industry 3.0 and Industry 4.0 is what is: real-time data and machine automation. This seems like a natural and simplistic evolution. New technologies potentialize workers' skills and transform their efficiency and productivity in such a way, that we now call them augmented workers.
The concept of an Industry 4.0 connected & augmented worker means that, by being provided with Digital tools such as system integrations, Augmented Reality, robots, and much more, workers are now more autonomous and able to execute any task without the need of extra support or training.
By being provided with new technologies such as Augmented Reality (AR), Digital workflows, contextual IoT data, and others, workers are able to see information on devices such as smartphones or HoloLens that guide them through execution. Additionally, IoT data from equipment can be visually provided to ensure their safety, without any extra training.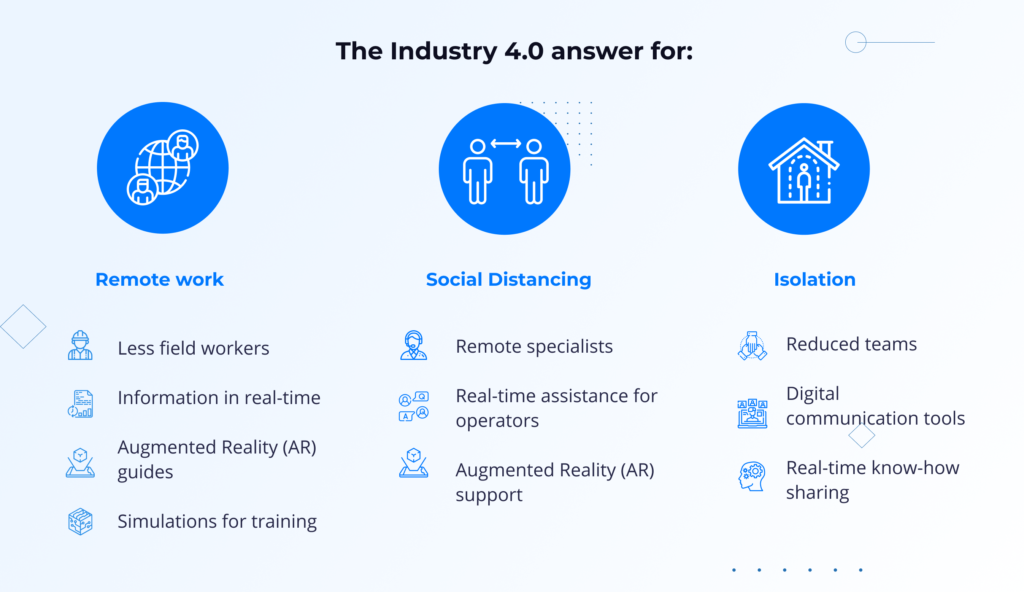 3. TRAINING
Besides providing workers with new tools that allow teams' centralization, increases workers' capabilities, Industry 4.0 technologies also reduce the amount of training needed per operator.
However, it is important that training still is part of company culture. A correct training preparation is one of the key success factors for businesses. In the industry, it allows to improve workers efficiency and safety.
Industry 4.0 provides technologies such as Augmented Reality (AR) and Digital Twins for simulation of he real work environment during the training session. Workers are presented with real environment to train processes and specific operations without putting equipment or themselves in danger.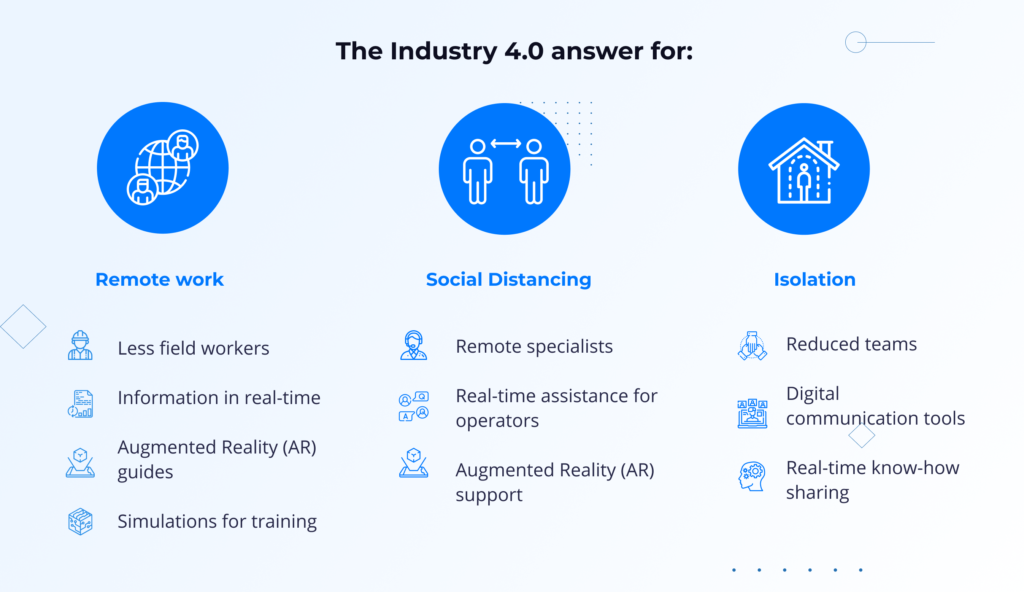 EXPECTED RESULTS WITH THE APPLICATION IF INDUSTRY 4.0 TECHNOLOGIES
Covid-19 is not only closing up businesses, but the ones that stay open must concentrate on its main assets: people. Workers are becoming more stressed and worried about their work than before.
By providing the correct tools to your team, people will be more secure, satisfied, and efficient. Which was proved to impact companies results in the following way:
Reduce teams
Specialists centralization
No need for training
More efficiency
Reduced time with travels
Increased first-time fix rate