Visual Remote Assistance is a recent concept that has been boosted by companies Digital Transformation. Companies are becoming more aware of the importance that a Digital Transformation can bring to their businesses. As well as, the impact of its tools in a business's day-to-day activity.
Visual remote assistance can be applied to different contexts and is widely used in a big amount of different sectors and use cases. That is the reason why visual remote assistance is often referred to as a broad concept and not specific to an industry or sector.
THE BEGGINING
The technology was born in the IT sector, as a mean to simplify and accelerate problem resolution. In the beginning, the technology was mostly used by computer experts to help customers or workers with specific problems found on computers.
With excellent results and proven benefits, visual remote assistance supported by Augmented Reality quickly spread from IT to other sectors, such as customer service, utilities, field services, or even manufacturing.
Due to the recent Covid-19 pandemic, the increasing work-from-home policy, and the business race to Digitalization, the concept of Remote Assistance has been taken to a whole new level with the addition of video sharing and Augmented Reality (AR).
EXPLAINING VISUAL REMOTE ASSISTANCE CONCEPT
Visual Remote Assistance is not a Remote desktop connection to help someone solve a specific issue. Visual Remote Assistance is defined as: connecting people through digital tools to share know-how and have real-time assistance from experts to solve problems anywhere, at anytime.
For example, if a specific piece of equipment has an unexpected breakdown, but maintenance specialists are not around, Visual Remote Assistance tools can help to solve the problem through a video call supported by Augmented Reality annotations. In a matter of a few seconds, any worker or client can access support from the most experienced workers to some complex problems.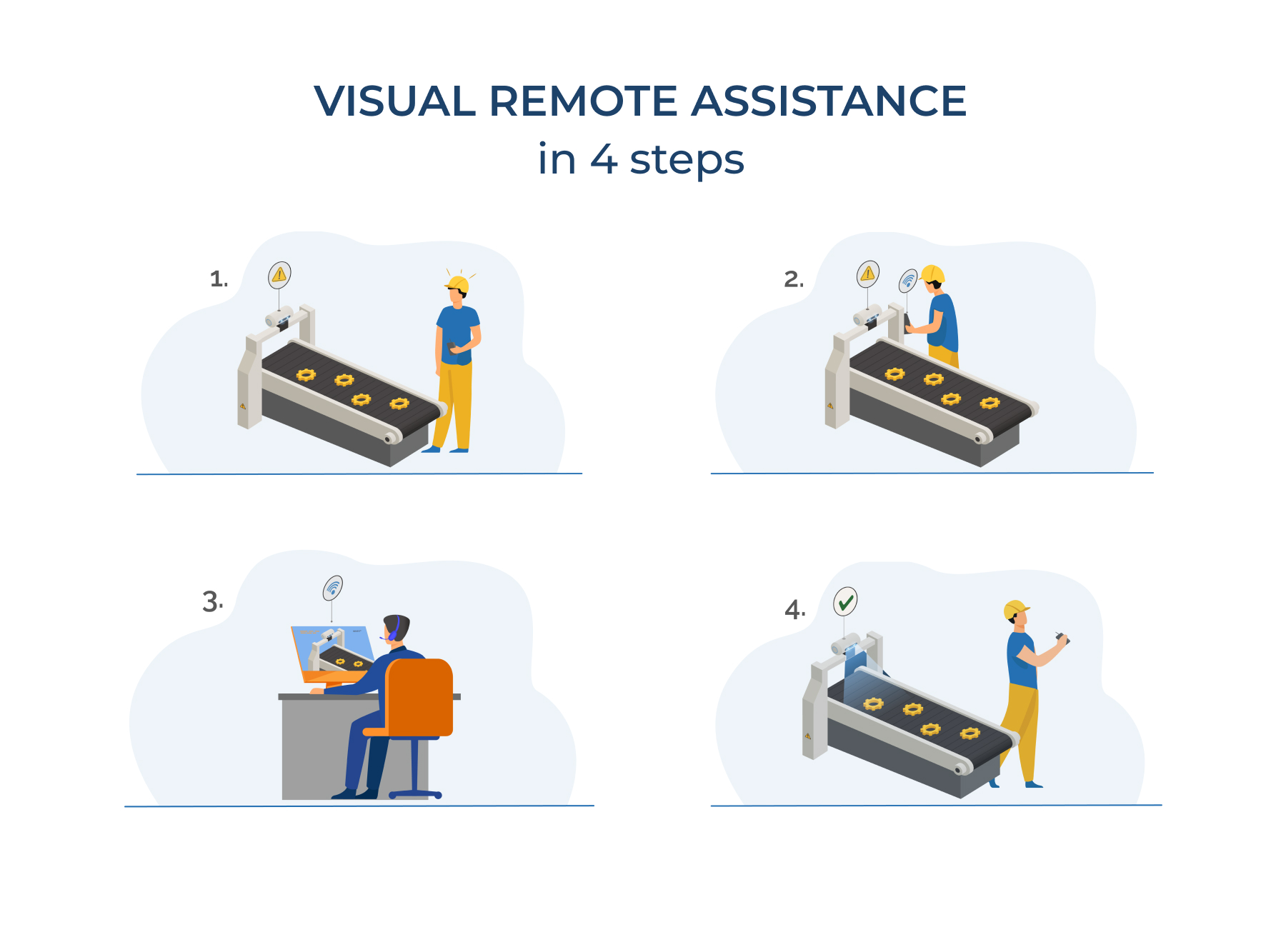 In a nutshell, the technology is nothing more than connecting people that are apart to help execute specific tasks or solve specific problems, in only 4 steps:
Workers or clients find a specific problem with equipment, information, or operation.
Workers or clients, as the assisted person, create a video call session with a remote specialist,
The remote specialist assist the person in need by guiding them through resolution, in real-time,
The problem is solved in a short amount of time, and, in a safe way.
THE TECHNOLOGY BEHIND REMOTE ASSISTANCE
Nowadays, there are a lot of new technologies that make it possible to create a digital environment that connects the whole company. These technologies allow more experienced workers to provide support to field operators and customers. But, how is it done? The core technology include:
Video Streaming sessions
2D or AR Annotations
Step-by-step guidance
File transfer and chat
Backoffice data
This technology aims to digitally provide real-time solutions to diagnose real-world problems in a fast and efficient way. Remote sessions can be done with smartphones or AR headsets, where both participants can use Augmented Reality (AR) annotations to interact with the real world and visually explain their needs or suggestion.
VISUAL REMOTE ASSISTANCE TOOLS BENEFITS
Due to its broad usability, Visual Remote Assistance tools provide companies with a lot of benefits, in which we can highlight rapidity, efficiency, safety, and know-how sharing.
Here are 6 main benefits that remote assistance bring to businesses: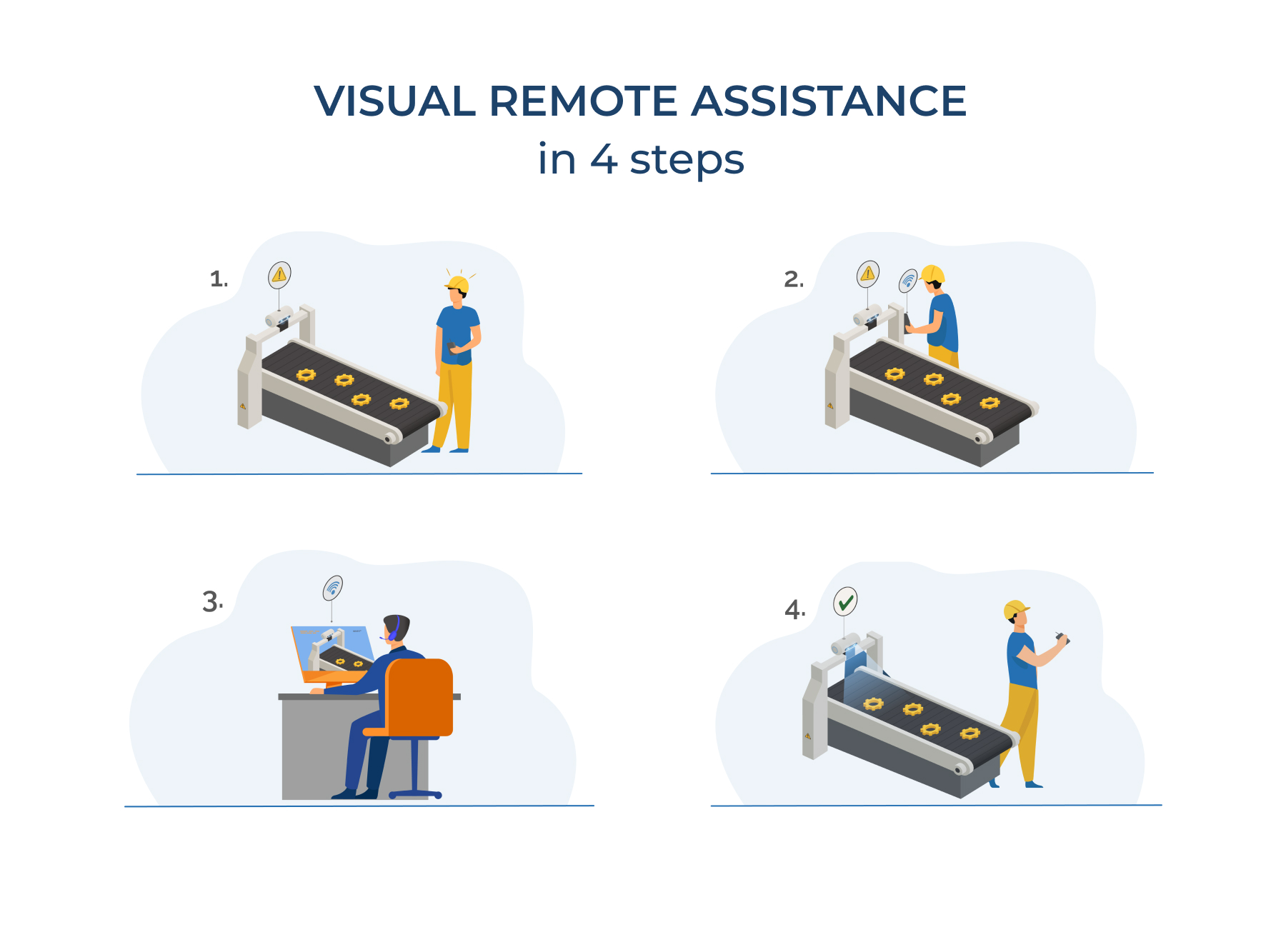 More profitability: Travel cost reduction, less error, reduced teams.
Knowledge sharing: Knowledge acquisition by observing and executing.
High safety: Proper guidance, the probability to face risk situations reduced.
Increased efficiency: Faster resolutions, with guaranteed quality.
Response time: At the minute availability from experts to diagnose and solve.
Overall satisfaction: Faster response time and less frustrated workers.
The emerging tendency for remote work has pushed visual remote assistance to a new level. Companies are increasingly seeing the benefits of having a centralized expert team that can assist anyone in a short amount of time.
All of these remote assistance benefits are becoming more relevant due to the Augmented Reality (AR) technology evolution. In fact, this new feature allows not only to have audio assistance, but also communications through video, chat, and with the support of Augmented Reality annotations.
This has transformed visual remote assistance tools to guarantee the quality of the carried out actions and the increased speed of responses, quality of resolution, and knowledge acquired by the assisted person
Final Thoughts
In simple words, all business levels can be benefited from Remote Assistance tools:
Workers: They are able to solve problems faster, with an improved support system, and the possibility of learning more about their jobs.
Managers: Teams are more satisfied with their workplace, there are fewer errors to be solved, and less pressure on managers to have quick answers for unexpected problems.
Directors: Information from remote sessions are gathered in the application back office, gathering data to support decision-making.