We are truly excited to announce GlarAssist launch – our Free Visual Remote Assistance solution! In a nutshell, GlarAssist is a group video-calling product with Augmented Reality features to highlight objects and improve communication in complex real-world scenarios. The person requiring assistance shares his device's camera and the remote specialist annotates the live video stream with Augmented Reality (AR) instructions.
GlarAssist helps experts to provide real-time instructions to workers, or customers, to speed up and guarantee efficient problem resolutions, reducing travel costs, and increasing the overall quality of service.
GlarAssist is free-of-charge for personal usage and for limited commercial usage. It is available for PC, Smartphone, Tablet, Microsoft HoloLens 2, and leading Smartglasses. You can find details about the product features and main use cases on the GlarAssist webpage.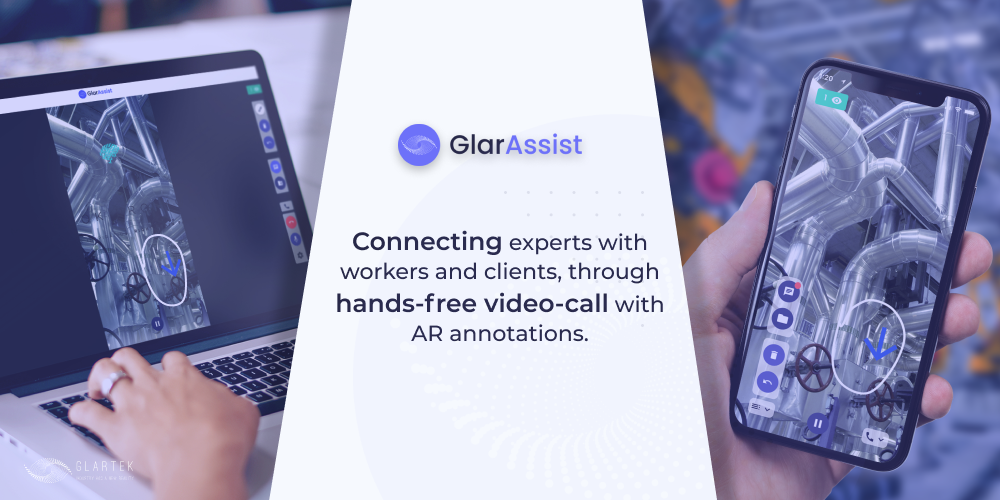 GlarAssist enables hands-free, recordable, group video-calling with Augmented Reality annotations, and much more. In addition, the GlarAssist supports freeze mode, chat, file transfer, low-bandwidth mode, analytics, and much more. 
GETTING STARTED
Because time is crucial and we are all tired of the lengthy onboarding processes. In fact, most remote assistance solutions require bureaucratic and long onboarding processes that postpone the actual problem-solving. GlarAssist aims to enable a quick and simplified onboarding journey, in only 3 steps: 
Download the app from the device store or open the web app at glarassist.com;
Register or login with your email and password;

Create a session and share the ID by phone, SMS, or email;
Note: the specialists providing assistance must use the web app and only the Android version of the mobile app is currently published in the public store.
HOW TO USE GLARASSIST?
As soon as the remote worker is in the session, he and the specialists can add real-time AR annotations to the live video stream. Tap to create an arrow to highlight an object or drag a finger or click and drag the mouse to draw a line in real objects. Magically, the arrows and the lines stay in the same place when the camera moves.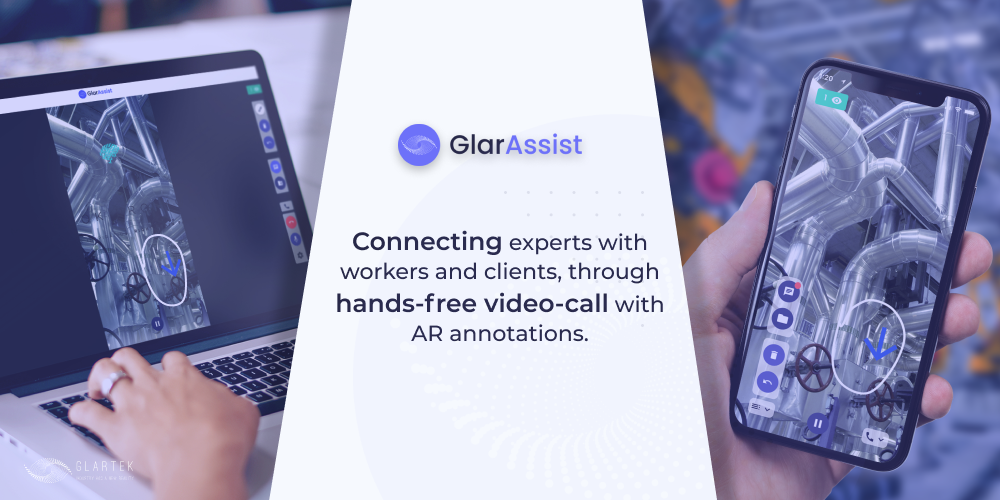 Any of the participants can also freeze the image to create more accurate annotations or change the color of the annotations to make it easier to understand in different backgrounds.
In addition to AR annotations, GlarAssist allows file transferring and chat to ease sharing information. Last but not least, the video stream, as well as the annotations, shared files, and chat messages can be recorded to rewatched later. 
USE CASES
The Remote Assistance solution with Augmented Reality capabilities can be extremely valuable in Manufacturing, Field Services, Asset-intensive sectors, and for Customer Service involving hardware handling.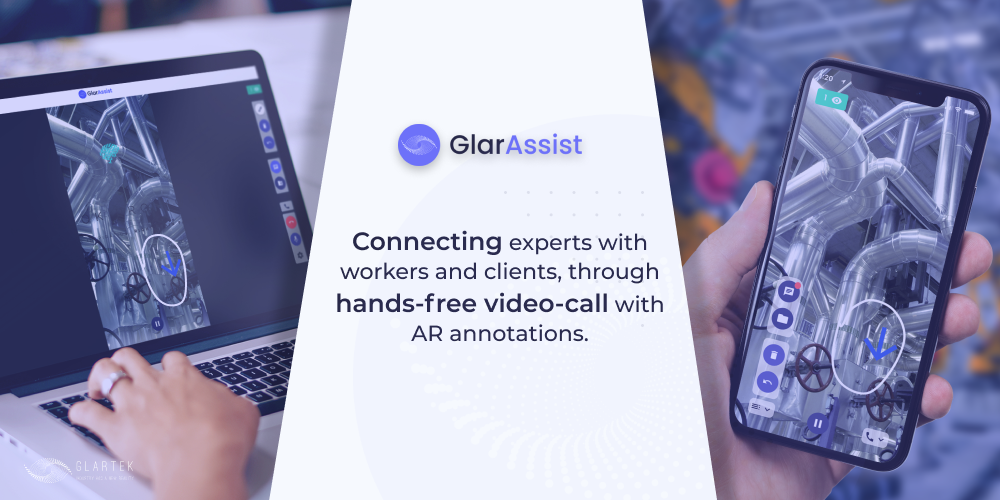 GlarAssist launch is perfectly adaptable for any use case. In an enterprise, employees can use this solution to assist remote maintenance, installations, audits, training, to correctly report problems, and to create easy-to-understand tutorials or reports. All this can be done while the remote workers have their hands-free and all sessions can be recorded and stored for future analysis.
FINAL THOUGHTS
GlarAssist is a 100% user-friendly tool that keeps everything simple, and efficiency-focused. It is a free-of-charge product that boosts innovative features to help anyone, solve any problem, at any time and any place. The product's goal is to remotely share specialist's know-how with anyone, reducing time and cost travel.
After GlarAssist launch, we invite you to try out the product and provide us feedback. If your company is in need of a solution like this, please do not hesitate to contact us.