We have recently launched our newest Remote Assistance product – GlarAssist! It is now possible to quickly connect your experts' team with field workers, or clients, to efficiently solve any problem at any time.
The Visual Remote Assistance tool is available for multiple devices such as mobile phones, tablets, HoloLens 2, and Smartglasses. And, the product enables hands-free, recordable, group video-calling with Augmented Reality annotations.
GlarAssist helps companies solving a real-life problem in their daily routines – lack of specialists for all problems to be solved. Now, with a simple remote assistance tool, that anyone can install on their mobile phones, it becomes natural to ensure quick responses when facing unexpected situations.
Companies are still struggling when it comes to their Digital Transformation. And most companies are just starting to make their first steps in becoming more digital, even when there is a clear need to become more Digital, and more aware of this important change for businesses. GlarAssist aims to help companies in three ways:
Taking a step further in the Digital Transformation process.
Ensuring fast responses in complex environments, even when the number of specialists is not enough for every site, equipment, and operations type.
Provide a tool that can respond to unexpected situations that require remote work, such as the Covid-19 pandemic.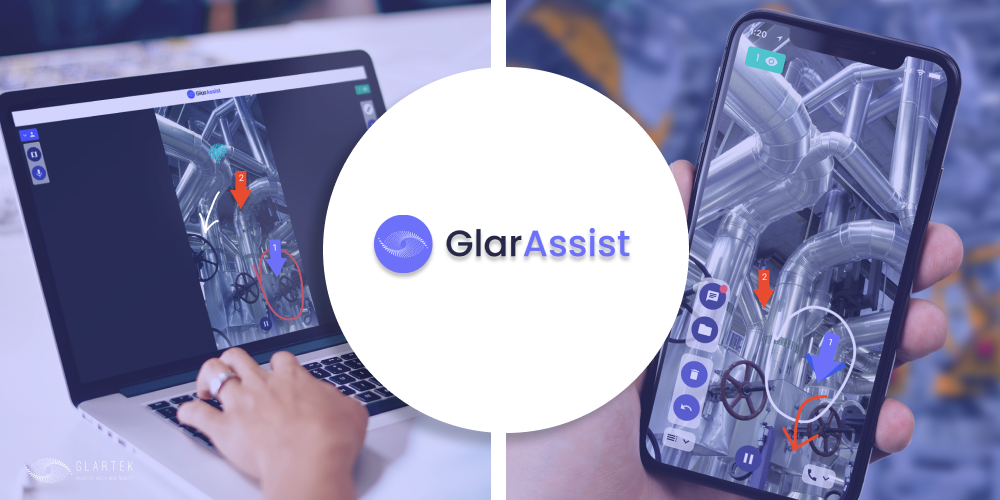 Visual Remote Assistance products are valuable for a wide range of industries and use cases. The industries in which these products have shown more results are both manufacturing, field services, or customer services. However, there is a huge amount of use cases in which remote assistance makes sense, for example:
Problems Reporting

Remote Maintenance/Repair Assistance

Remote Audits

Knowledge base processes

Remote One-to-One training
Each session with the required know-how to solve any problem
Every company is built upon different departments, different people and resources, that have specific and individual goals, and that complement each other. Therefore, when a problem appears, it is often hard to understand who is the correct person to help in that specific situation.
With GlarAssist, it is possible to ensure that every needed asset is remotely participating in the session – which means, if the problem found on specific equipment requires the help of maintenance specialists and an electrician, both can be part of the remote session. Therefore, when solving a problem that requires different levels of know-how, it only takes the creation of a multi participants session by sharing the session ID with the team.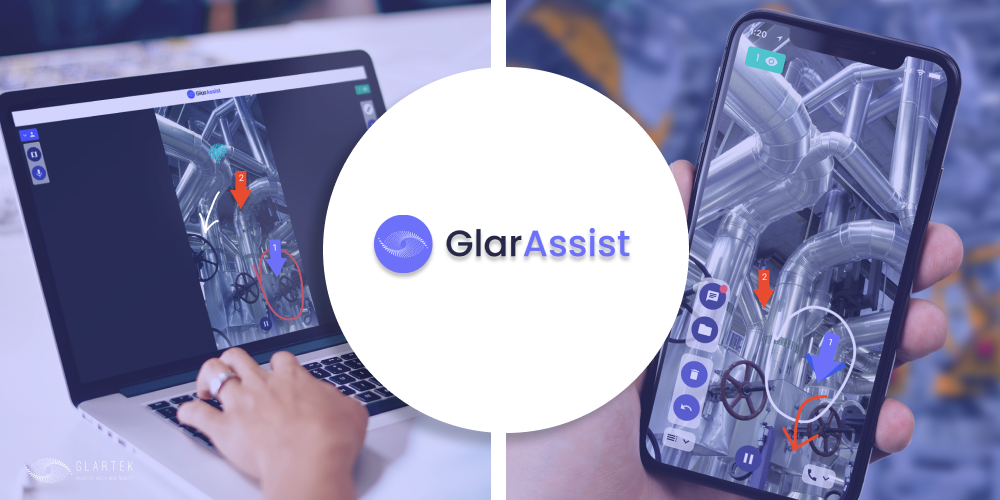 Visual tools to ensure that guidance is well provided and received
How is assistance provided nowadays in different sectors?
Nowadays companies tend to use different apps that allow them to interact through either calls or video calls with each other. That is not enough. Field workers and clients do not always understand what is being told and need visual guidance to understand what is required.
Augmented Reality (AR) aims to improve our view of the world, by complementing what we see, with virtual elements such as information, guides, and more. The technology is transforming different sectors in unique ways, enabling higher productivity and efficiency levels.
With GlarAssist – a visual remote assistance product based on Augmented Reality (AR) – field workers and clients have direct instructions placed in the context of what is being seen, from specialists to know exactly what to do and where to do it.
Sequential arrows can be a way to provide a workflow during problem resolution.
Augmented Reality (AR) lines a useful tool to ensure that the assisted person knows exactly where to act, and how to act.
Adaptable for different workplace environments
A successful visual remote assistance session is determined by the efficiency of the resolution, and, the speed at which the problem was solved. Additionally, leading companies are aware that reducing the chance the same problems happens again is critical. Therefore, visual remote assistance tools must ensure that information is gathered, to support decision-makers.
For example, if a worker needs assistance with equipment maintenance, it can be important to share the instructions file with the worker so he sees the details of the operation. Or, if a worker is in an environment with equipment that has a lot of details, a freeze mode option can be your best friend.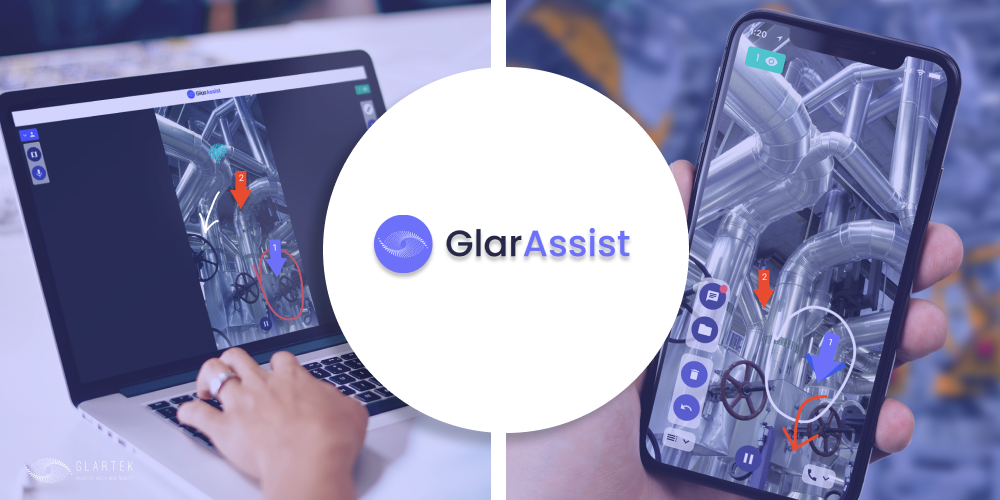 WHAT'S NEXT?
Download our app or access it on the webpage and deploy the tool for your whole team. By accessing GlarAssist, and sharing the session ID, your team will be able to initiate a remote assistance visual session and be guided by the most experienced specialists to solve any problem.
GlarAssist is free for personal usage, and it's the first limited free-of-charge remote assistance tool for commercial usage. Interested in managing your teams' remote sessions and most frequent problems? Record session will be launched later this year, get started now to be updated on all the news on the product!
Help your team being more efficient by reducing travel time, long waits for specialists to arrive at the site, and by analyzing the most frequent needs of your team with GlarAssist!