In the new age of connected and digital operations, businesses working in the manufacturing and asset-intensive industries are digitizing their operational and managerial procedures. As a result, an increasing number of organizations rely on different digital solutions and platforms to plan and carry out day-to-day operations.
While the adoption of different solutions can tackle several use cases, they also pose administrative challenges related to managing different platforms. This is where integrated solutions reveal to be particularly important.
Aiming for data-driven operations to achieve the best results
As part of data-driven operations, organizations are increasingly required to compile, exchange, and cross-reference data across different platforms. While connected operations often refer to the creation of a wide network of connected workers, there is more to it. It is important to note that this term also includes any and all platforms used for daily operations.
In fact, any digital tool operating in isolation will eventually become obsolete or prove limited. Moreover, but also they will also actively prevent the free sharing of information. The objective of any technology introduced in the workplace is to support workers and the efficiency of operations. On the other hand, isolated information and platforms represent a waste of resources and potential.
Ultimately, this can lead to an inefficient effort in optimizing procedures and introducing continuous improvement and operational excellence mindsets. Businesses should work towards their desired results and not settle for what they actually achieve.
Why are fully integrated solutions increasingly important?
Integrated solutions allow for the creation of a wide ecosystem of different platforms for collecting and exchanging information. Data generated and collected by different machines, systems, departments, and hierarchical levels can be shared to help promote improved communication.
Managers and directors can easily track operations across different platforms, without logging in and out of different accounts. Combining data allows the creation of automated dashboards, reports, and other analytical formats. As a result, digital analytics and insights become a reality and feature more accurate information.
In addition, integrated digital solutions can contribute to creating robust and modern workflows. By working with flexible and versatile platforms, trying out or introducing new systems is no longer a time-consuming and resource-draining effort. Replacing old systems can be a smooth process that does not affect large parts of the organization of IT systems or departments.
Moreover, integrated solutions can help modernize legacy systems and could contribute to the reduction of downtime related to upgrading existing technology or other absolute platforms. Integrated digital solutions can also enable a new organization IT model in which businesses leverage both cloud and on-premise solutions.
Key benefits of integrated solutions
Ultimately, integration in the age of Industry 4.0 is not only an isolated step to more productive and efficient operations. Integration is a broad operational strategy that can have a substantial impact on communication, data management, workflows, analytics, and business strategy.
Thus, we can see how integration acts as the secret ingredient in the digital transformation of businesses. Integrations not only assist during the beginning stages of the transition but also throughout its entire life cycle. Integration helps during the transition to newer platforms, enables real-time communication within the created digital environment, and provides data and analytics of the workflow for better team communication and business strategy planning.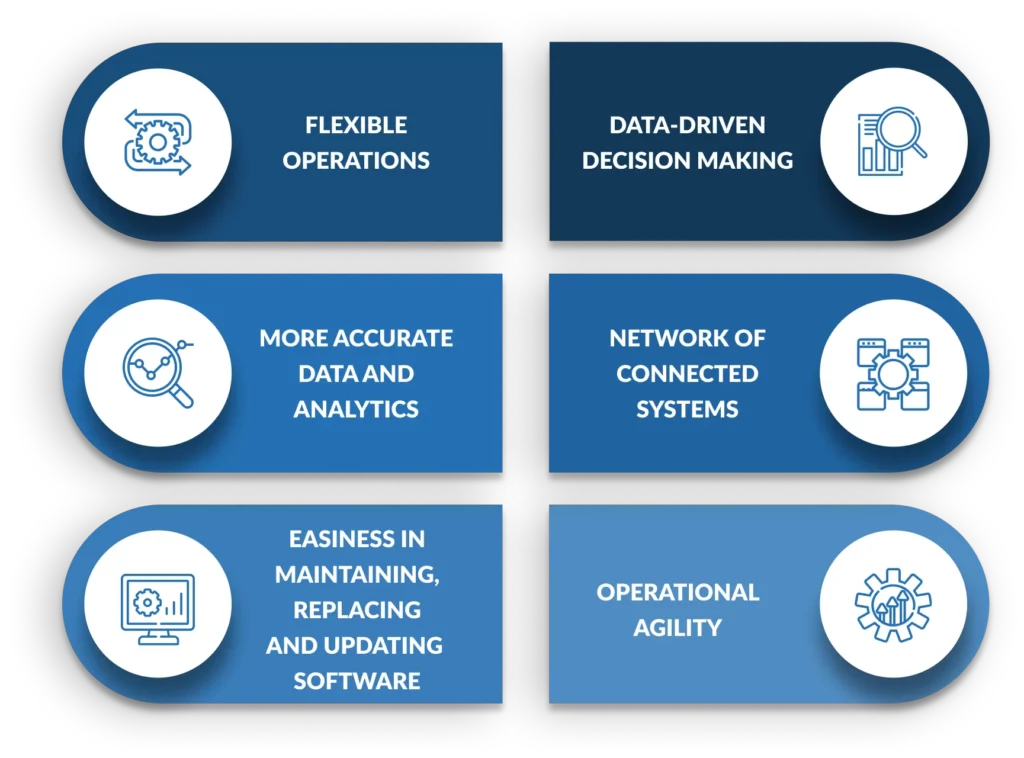 Glartek's fully integrated solution
Glartek's Augmented & Connected Worker solution centralizes information in a single platform while allowing for the extraction of relevant data and insights. This feature is particularly important since the solution is designed to integrate with leading industrial software (SAP ERP, IBM Maximo, GE MES, Microsoft Azure, and AWS Iot Core). As a result, businesses can easily manage different platforms and extra data to benefit their decision-making.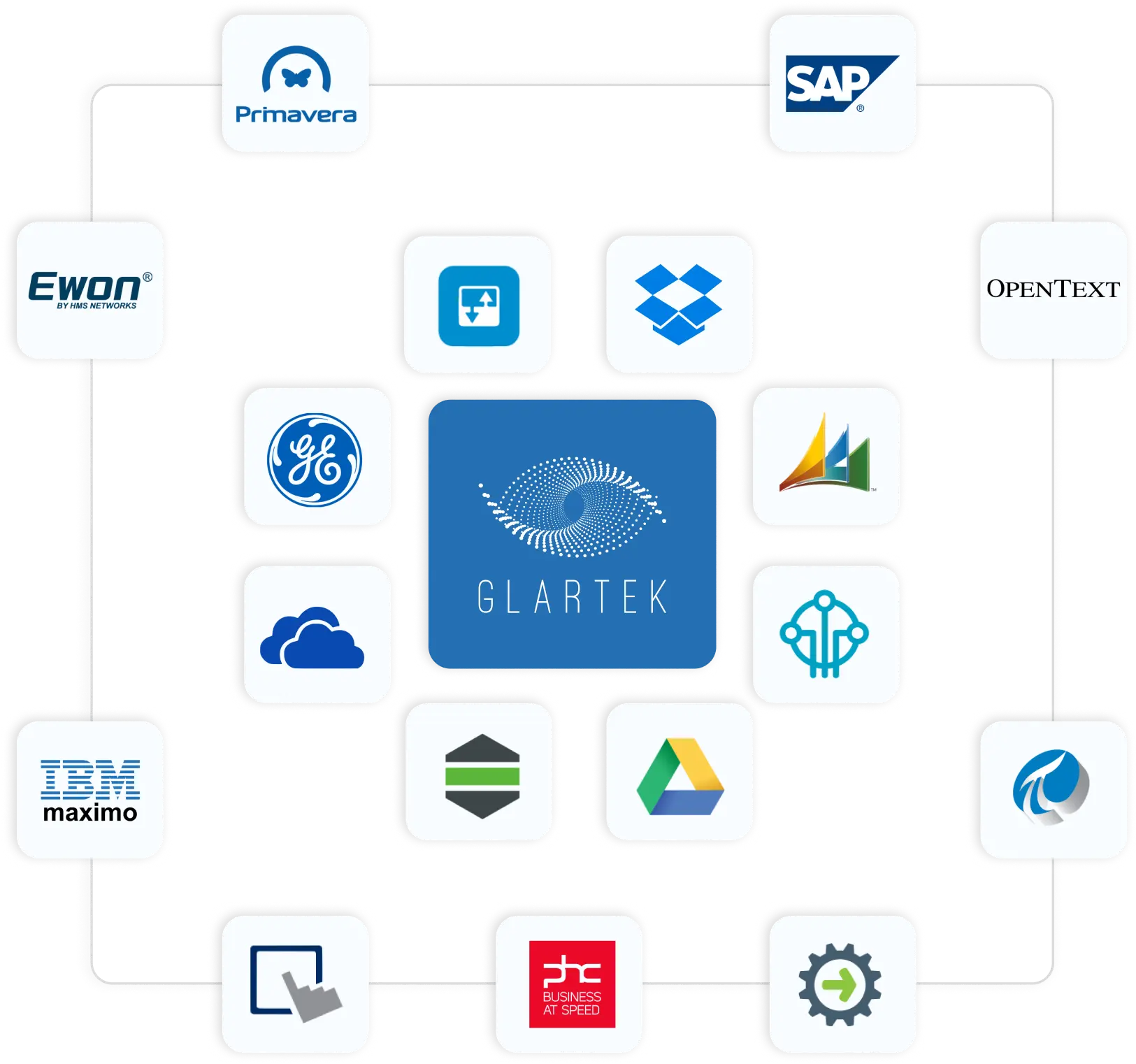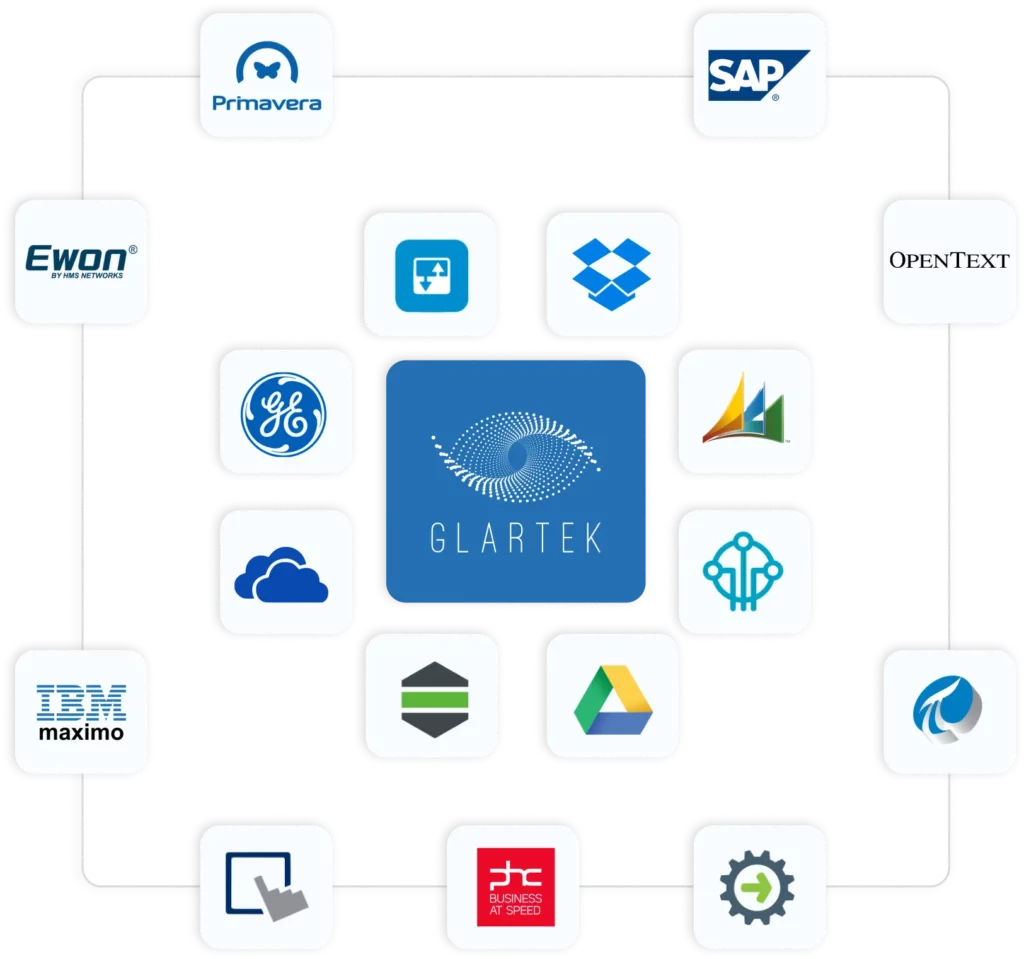 Learn More
Interested in learning more about the Augmented and Connected Worker Platform? Get in touch to book and free demonstration or explore our blog to understand how this solution is already changing the industry.