In the world of manufacturing, businesses are often looking for ways to reduce errors, increase productivity and safety and have a high-morale workforce. One way that companies have been able to reduce errors and increase productivity is by performing 5S audits.
A 5S audit can be described as a systematic check of the work environment in order to identify opportunities for improvement and pursuit the goal of continuous improvement on the shop floor. The Japanese call this "Kaizen".
Continuous improvement is not just for companies that are struggling. It should also be applied by those who want to achieve excellence. According to McKinsey, of almost 2.000 companies that integrated Organizational Health Index (OHI) most of them were using continuous improvement to exceed themselves.
5S Audit: key to a successful continuous improvement strategy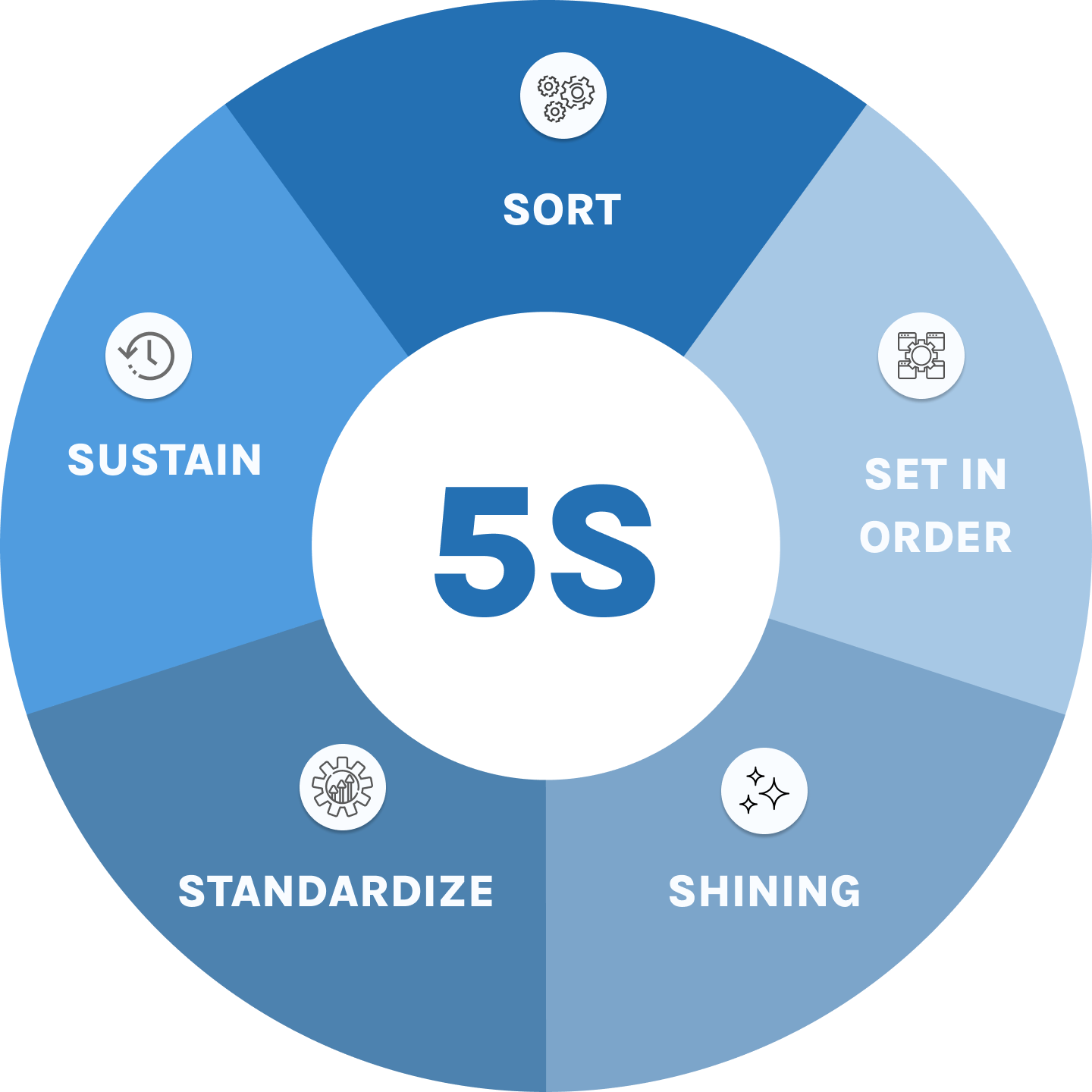 5S is a management approach, originally used by Toyota as part of its LEAN production system. It is designed to:
Keep a organized and productive workplace
Increasing process and employee efficiency
Create a better work environment
Reduce errors and wast
Improve safety
In order to achieve this, manufacturers conduct periodic inspections known as 5S audits.
Using 5S checklists to conduct audits
To make 5S audits easier and much more efficient, companies created standardized checklists that can be followed. These lists help and guide operators going through all tasks required without missing any steps.
Another important aspect is that 5S audits are different from each other, depending on the site and elements subjected to evaluation. Thus, processes and corresponding checklists differ one from another and have to be adapted on a case-by-case basis.
From paper to digital… to Augmented
Paper to digital
It is possible to transform legacy checklists and paper instructions into Digital Work Instructions. 5S audits procedures can be digitized with the new Augmented & Connected Worker solution.
This solution can help you manage tasks and teams and eliminate all the unnecessary paper files, making the process easier, safer, and more productive.
Digital work instructions will be the new frontline team's ally, ensuring that your team has the right support and making efficiency the top priority of all operations.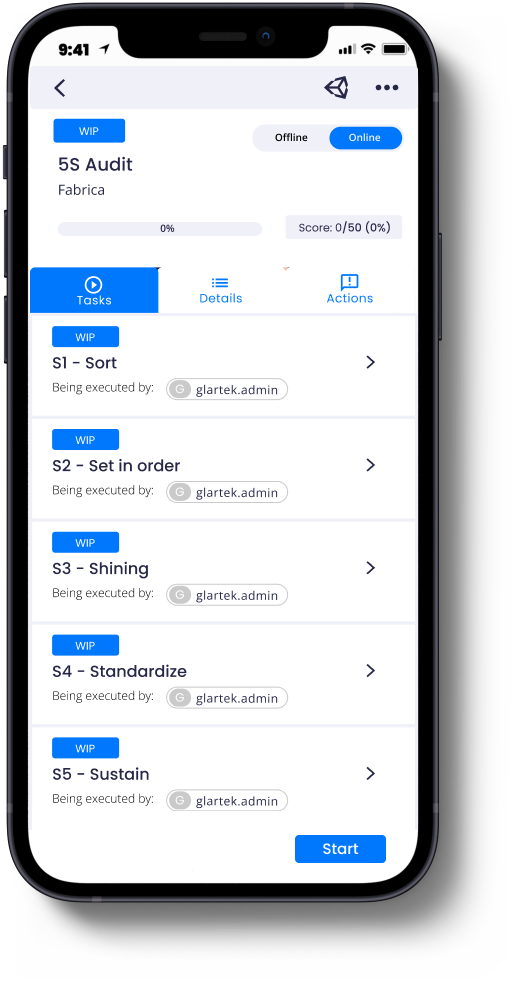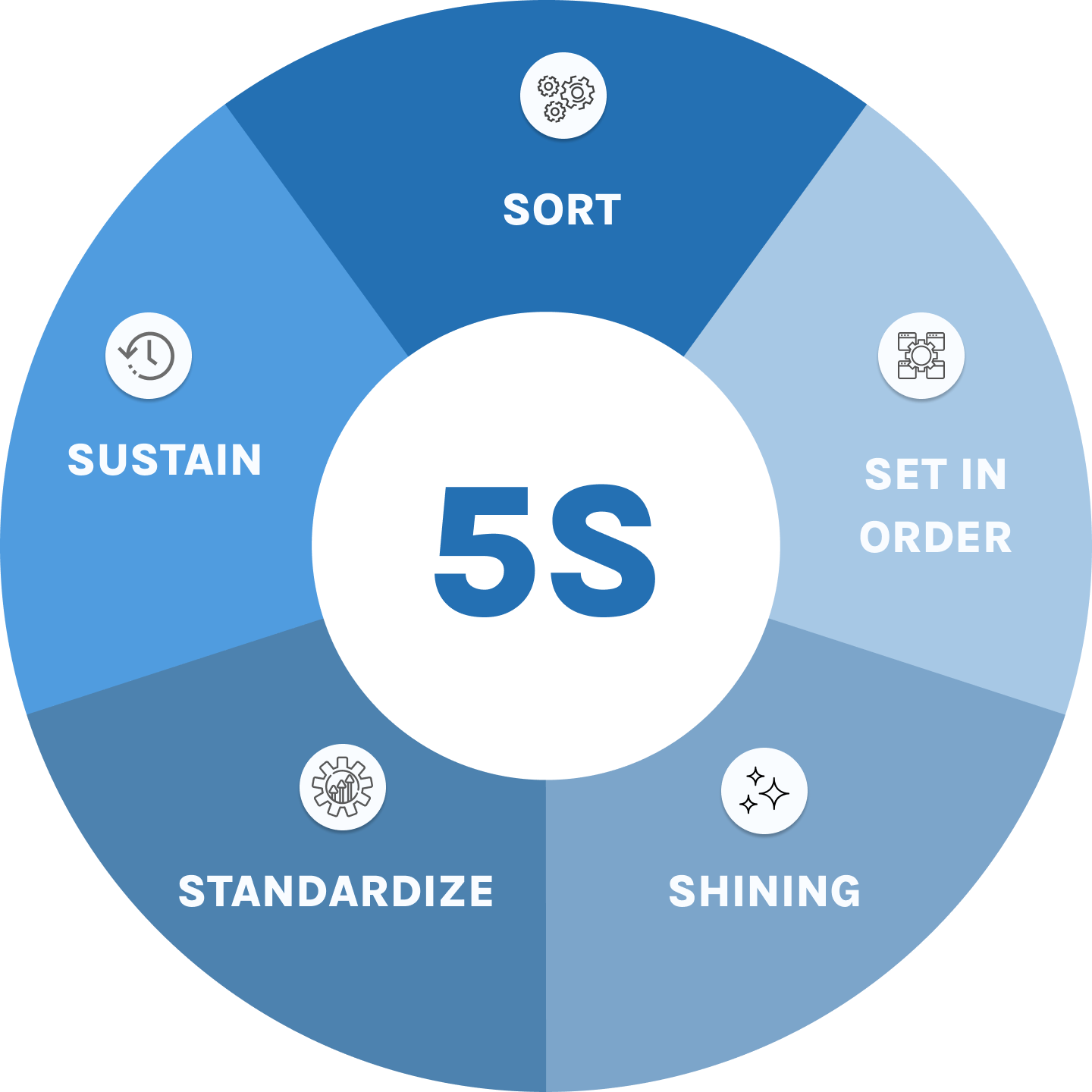 In addiction, with these digital checklists workers can be much more connected and involved in the process.
They are gonna be able to generate actions and alerts if something is wrong, leave additional notes about a procedure or even upload files.
Beyond that, these checklists can also being tracked in real time allowing managers to have a more accurate image of what is going on that moment on the shop floor.
These checklists allow:
Generate actions
Point potencial issues
Triggering alerts
Tracked in real time
A step further… not only digital but also augmented
Using our solution will unlock a new reality for a more augmented and connected worker. With this solution, you can evolve from legacy or even digital checklists to the new augmented checklists.
These checklists can use Augmented Reality (AR) on mobile devices or wearables, if needed. For example, when workers need to perform hands-free tasks.
This way all information needed is contextualized through AR digital elements like images or text that are fixed and contextualized in the equipment or points of interest. As a result, it is possible to move freely without they disappear, maintaining the context, thus helping to guide the workers and consequently reducing errors.
Augmented checklists allow:
AR available if needed
Contextualised information
Worker guidance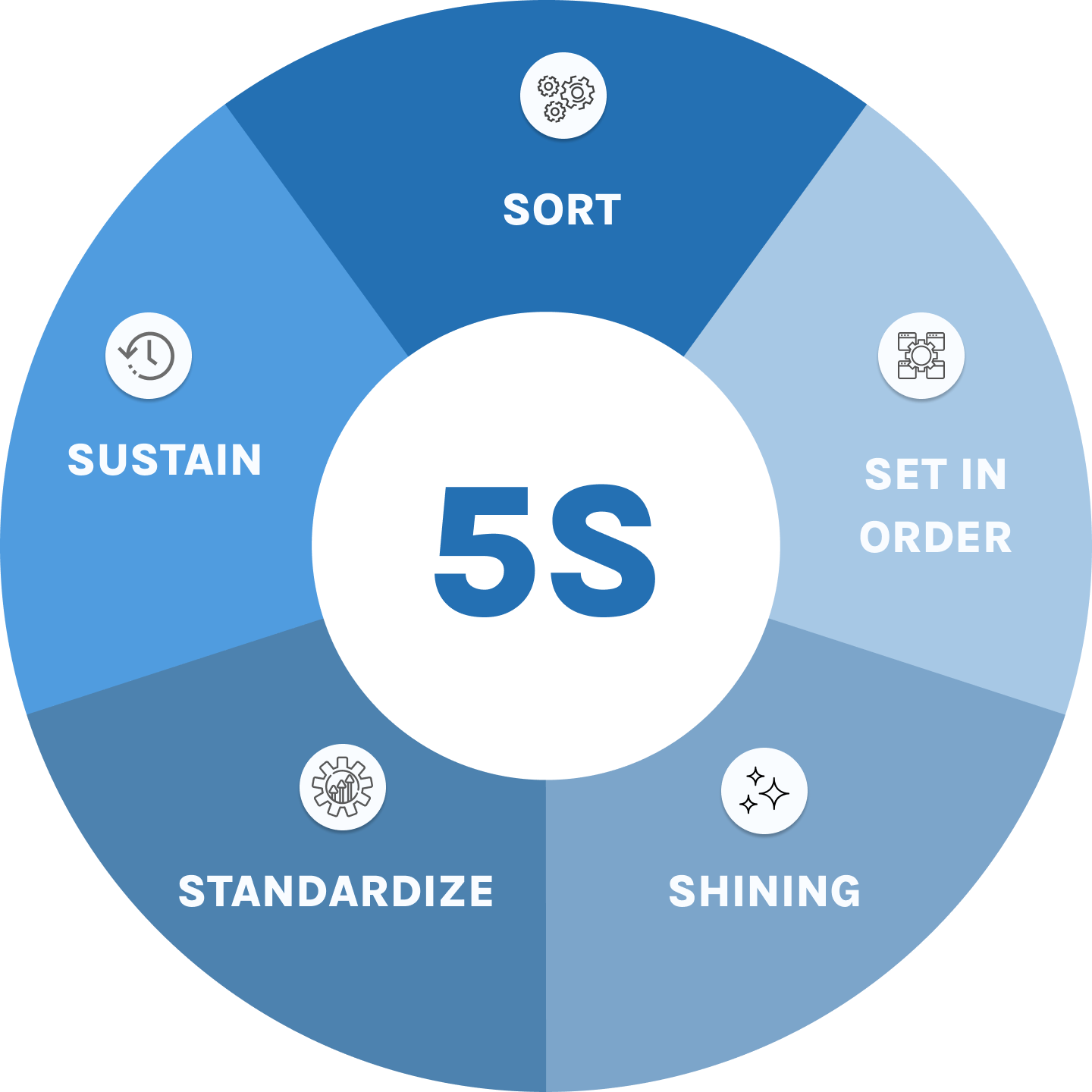 This way you can reduce error by improving efficiency and standardization across your shopfloor ensuring a correct process execution when conducting a 5S audit.
How to migrate a 5S audit paper process to an augmented checklist?
Migrating and creating these checklists is easy due to no-code customization. With a few clicks and a user-friendly form creator, it is possible to replicate former paper checklist and create the most varied types of questions with different answer formats.
Create an Issue template (eg: 5S Audit)
Create your tasks (eg: Sort, Set in order, Shining…)
Create your questions in each task
You can even include conditional questions leading to different paths. Or even having the power to request photographic evidence or additional notes about critical process steps. Additionally, you can also include scores in your tasks to know the audit evaluation.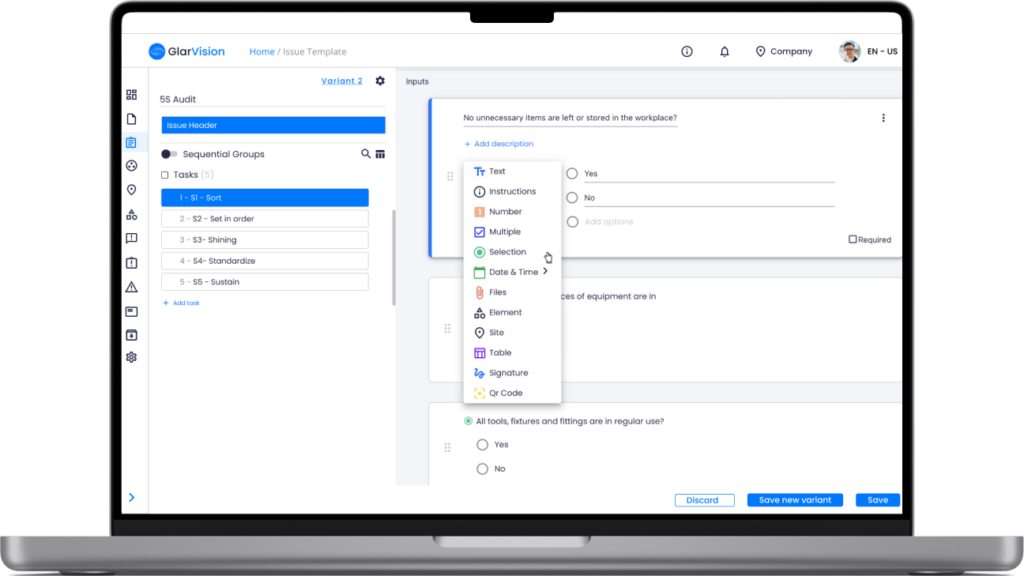 Overall, with our solution, checklists are not only digitized but are also integrated into a wider network of operational tasks and industrial procedures. In this way, augmented checklists can be more comprehensive and thorough compared to paper ou even digital checklists. This will allow your company to pursue continuous improvement with less effort and more efficiency.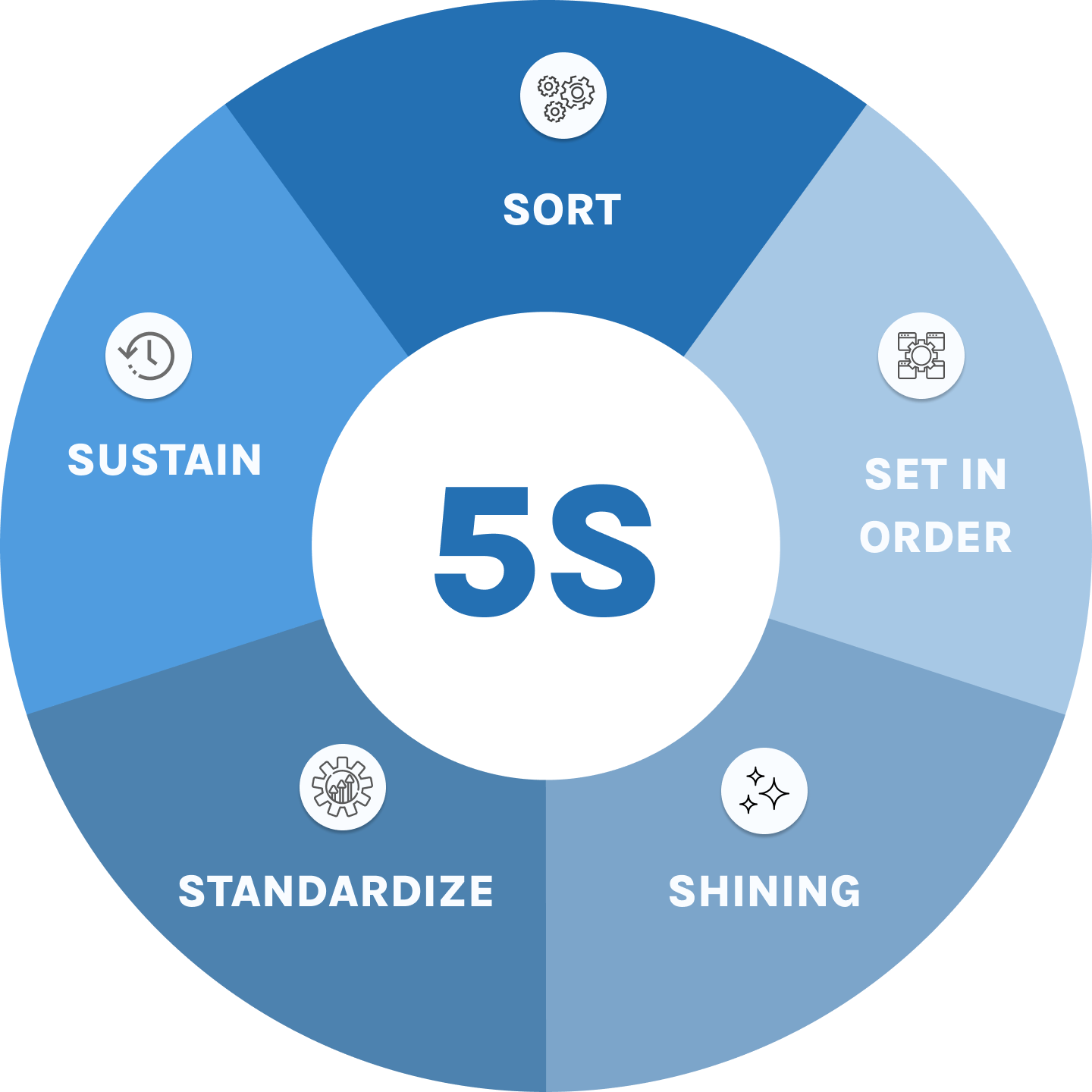 To know more about 5S Audit and other procedures that can migrate from paper to digital visit our website procedures page and discover The Augmented & Connected Worker benefits. In addition you an also request a 5S procedure template.
Learn More
Interested in learning more about digital solutions and how they are changing shop floors? Explore our use cases or reach out to our team to schedule a free demonstration to understand the full potential of Glartek's Augmented & Connected Platform.